European Commission Supports Ukraine's Action On Transdniester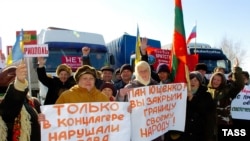 Protesters against the new customs rules hold posters reading, "Mr. Yushchenko, you closed the border of your people" at the Novye Gayany checkpoint on the Ukraine-Moldova border, March 9 (ITAR-TASS) March 10, 2006 -- The European Commission today expressed support for Ukrainian and Moldovan moves to put an end to unauthorized trade from Moldova's breakaway region of Transdniester.
The commission said in a statement that the measures instituted by Ukraine in collaboration with Moldova are intended to ensure transparency of border operations and "do not in any way constitute a blockade."
Russia's lower house of parliament today denounced the new customs regulations as "economic sanctions" and said they are aimed at putting political pressure on the separatist authorities.
The regulations require all cargo to be cleared by Moldovan customs officers. Ukraine says the European Union-backed regulations are aimed at curbing illegal trade.
Transdniestrian officials today said they lost some $20 million since the introduction of the new rules on March 3.
Moldova's parliament, in a statement adopted on March 9, said Transdniester's unrecognized government bears responsibility for the "artificial escalation of tensions."
In a separate development, Aleksei Miller, the head of Russian gas giant Gazprom, said today that negotiations are under way with Moldova on a new gas delivery contract. Miller said Gazprom thinks that gas prices for all former Soviet republics "should keep to the European level."
Moldova's current temporary agreement with Gazprom, under which it pays less than the market price for gas, ends on April 1.
(compiled from agency reports)

RFE/RL Belarus, Ukraine, And Moldova Report

SUBSCRIBE For weekly news and analysis on Belarus, Ukraine, and Moldova by e-mail,
subscribe to "RFE/RL Belarus, Ukraine, And Moldova Report."