The Moscow-based Levada Center conducted the Russian poll of 1,000 adults in April, while worldpublicopinion.org carried out a poll of similar size in the United States at about the same time.
Mostly Similar Views On Iran
According to Stephen Weber, associate director of worldpublicopinion.org, both Russians and Americans believe Iran is trying to develop nuclear weapons, although they differ in terms of extent of their concern and what preventative measures should be taken.
"Both agree that the UN should discourage countries from acquiring nuclear weapons. Both agree that Iran is trying to head toward the development of nuclear weapons. Both publics strongly favor diplomacy over bombing Iran's nuclear facilities." -- Weber

For example, 84 percent of Americans and 68 percent of Russians say they would be concerned if Iran acquired nuclear arms. At the same time, 68 percent of Americans support imposing economic sanctions on Iran but only 23 percent of Russians do.
"Of course, for many years the U.S. has not had either economic or diplomatic relations with Iran. And, for Russia, Iran is a significant and promising trading partner and an important and largely cooperative regional diplomatic partner," Weber noted. "So it's not surprising that Russians and Americans would have somewhat different views about how to proceed with Iran."
Also, Andrew Kuchins, director of the Russian and Eurasian program at the Carnegie Endowment for International Peace, explained that "Russians view economic sanctions as sort of getting on the slippery slope toward military action, which they are categorically opposed to."
Nevertheless, Weber concluded that the Russian and American publics basically agree about Iran. "So as we consider how Russians and Americans look at international problems surrounding Iran's nuclear program, we see more fundamental agreement than disagreement," he said.
"Both agree that the UN should discourage countries from acquiring nuclear weapons. Both agree that Iran is trying to head toward the development of nuclear weapons. Both publics strongly favor diplomacy over bombing Iran's nuclear facilities, and while Americans favor the UN invoking economic sanctions if necessary. Russians oppose economic sanctions and support more diplomacy," Weber concluded.
Opinions Diverge Over China
On the topic of China, however, survey respondents in Russia differed considerably from their counterparts in the United States.
Russians have a favorable opinion of the Chinese economic and political system, its influence in the world, and its use of military force. For example, 46 percent of Russians have a favorable view of how China uses military force or the threat of military force compared with less than 20 percent of U.S. respondents having a favorable view. Russians also had a much less positive view of how the United States uses its military force -- less than 10 percent of survey respondents have a favorable impression.
Americans, on the other hand, have a more negative impression of China than the Russians. Almost half of Americans thought China is having a mainly negative influence in the world compared with only 20 percent of Russians holding this view.
Weber reported that opinion-survey data released in January of this year of the Chinese show that they return Russians' positive regard. And like the Russians, they share a negative view of the United States' role as a world superpower.
"Fifty-six percent of the Chinese saw Russia as a positive influence in the world while 62 percent saw the U.S. as a negative influence," Weber added.
Manufactured Opinion?
However, Kuchins, who is currently writing a book on the Russian-Chinese relationship, was more skeptical. He suggests that Russia's current positive view about China may not be one that is stable over the longer term.
"How durable is this positive Russian view about China? How much is it changed over time? How much can it be correlated to the negative perception of the Bush administration and U.S. foreign policy in the world? Because I think that for the Russians the view of what the United States does drives a lot of how they view China," Kuchins said.
He also suggests that the Russian leadership has perhaps "created" the positive view of China. "It's easy for me to understand why the Russians think this way," he said. "For one, they're fed a fairly steady diet on TV especially about how wonderful the Sino-Russian relationship is -- how positive it is. They see very few images about positive cooperation with the United States."
Should the Russian leadership's view of partnership with the United States change, then images of the United States may become more positive.
Russia And The West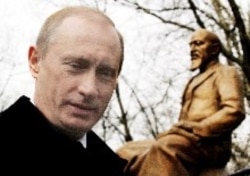 (epa)
COOPERATION, CONFLICT, CONFRONTATION: Relations between Russia and the West are notoriously volatile. "To see the kind of relationship that presidents Bush and Putin have developed and to see Russia firmly anchored in the West, that's really a dream of 300 years, not just of the post-Cold War era," then-national security adviser Condoleezza Rice said in May 2002.
But observers have increasingly called into question the extent of the shared values between Russia and the West, particularly on issues relating to the transformations going on in other former Soviet countries.
RELATED ARTICLES
Silent Diplomacy Versus Public Criticism
Analysts Say New Arms Race Unlikely
Moscow 'Unhappy' With Outcome Of CFE Conference
Moscow And Washington Spar Over WTO Membership
Russia Gears Up To Improve Its Image Abroad
Experts Urge U.S. To Rethink Relations With Russia
U.S. Official Says Russian NGO Law Part Of Antidemocratic Trend
ARCHIVE
To view an archive of RFE/RL's coverage of Russia, click here; to view an archive of RFE/RL's coverage of U.S.-Russian relations, click here.

SUBSCRIBE
For news and analysis on Russia by e-mail, subscribe to "RFE/RL Russia Report."