Five Killed In Turkey's Kurdish Region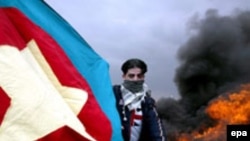 A Turkish Kurd holds a flag of the Kurdistan Workers Party at a demonstration in Istanbul in March (epa) June 2, 2006 -- A Turkish soldier and four Kurdish fighters were killed today in a clash in Turkey's Sirnak Province, which borders Iraq and Syria.
This is the latest in a string of clashes in southeastern Turkey.
Turkey has been massing troops in the region to step up operations against the militant Kurdistan Workers Party (PKK) and to stop alleged infiltrations of militants from Iraq.
(AP, AFP)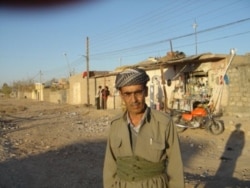 KURDISH AWAKENING: The ethnic Kurdish region in the northern part of Iraq has struggled in recent years to reestablish its cultural and political identity after decades of oppression under the regime of deposed Iraqi President Saddam Hussein. In December, RFE/RL correspondent Charles Recknagel traveled to this area and filed several reports:
Relative Peace Underscores Issue Of Kurdish Region's Future
Kurdish Culture Begins To Flourish In Kurdistan Region
Kurds Ponder How To Strengthen Autonomy After Elections