As Turkey masses troops on its border with Iraq in preparation for a possible large-scale military incursion to eliminate Turkish-Kurdish fighters from the Kurdistan Workers Party (PKK) hiding out in Iraq, U.S. Secretary of State Condoleezza Rice met with Turkish Foreign Minister Abdullah Gul in Ankara on April 25.

Despite weeks of press reports suggesting that the United States has given tacit approval for a Turkish military operation, Rice maintained in remarks to reporters that any such action could threaten to destabilize Iraqi Kurdistan.

"We need to work with the new Iraqi government and we will do that. We've had a trilateral mechanism on this issue and I hope that we can reinvigorate it when there is a new Iraqi government" in place," Rice said.

Meanwhile, Gul quietly criticized the U.S. approach to terrorism. "Taking one [terrorist] organization more seriously while showing greater tolerance to another creates a weakness in the field of counterterrorism and in the international arena," he told reporters. Both the United States and Turkey have labeled the PKK a terrorist organization.

But Gul denied that any operation is in the works, saying that the troop buildup is an annual spring exercise by Turkish forces.
"Our security forces are taking measures because with the arrival of spring the terrorists have become active and are infiltrating our borders," he said. "This is what is being done, and there is nothing new."

U.S. Offers Intelligence

Rice confirmed to reporters in Ankara on April 25 that the United States has stepped up its cooperation with regard to the PKK by sharing intelligence information with Turkey. "We believe that it is important that we make joint efforts through information sharing and other means to prevent any vacuum for being used as a way to inflict harm here in Turkey," she said, according to the State Department website.

Istanbul-based NTV reported on April 21 that the United States was providing Turkey with "pinpoint" intelligence, adding that all of the PKK's communications have been placed under observation. The United States is also reportedly working with Turkey to cut off the PKK's financial support.

Meanwhile, some Turkish media have maintained that the United States has given Turkey the green light to carry out reconnaissance missions inside Iraq.


The Turkish media has fueled rumors in recent days about preparations for a large-scale operation. Istanbul's "Ortadogu" reported on April 23 that the Turkish armed forces deployed two brigades to the Iraqi border in preparation for the operation, which would include air strikes against six PKK camps in the Qandil Mountains sheltering an estimated 6,000 militants.
The report contended that Iran and Syria were briefed on the operation, which planned to extend some 100 kilometers inside Iraq, and both countries gave their support. Iran has been carrying out its own operations against Kurdish militants from the Kurdistan Free Life Party, an offshoot of the PKK, along the Iran-Iraq border in recent weeks. Both Iran and Syria have large Kurdish minority populations.
Iraq's Kurds Criticize Turkey
Iraq's Kurdish leaders have been critical of Turkish behavior in recent months, and have raised speculation that Turkey aims to destabilize Iraqi Kurdistan.
Relations between Ankara and Kurdistan had been tense since the overthrow of the Hussein regime, particularly because of Turkish support for Iraq's Turkoman population and its claims over the oil-rich city of Kirkuk.
The
tensions were exacerbated
when transitional Prime Minister Ibrahim al-Ja'fari visited Ankara without notifying President Jalal Talabani or Foreign Minister Hoshyar Zebari (both Kurds) in February. Kurds interpreted the visit as a threat by al-Ja'fari, following their calls for him to give up the nomination to the premiership due to his poor performance in the transitional government.
More recently, Kurds have taken offense to the fact that Ankara has not included Kurdish leaders in the dialogue on the PKK issue, but rather sought exclusive talks with the United States, according to some media reports. This stance is more broadly linked to a Kurdish demand that Ankara recognize the legitimacy of the regional government in Kurdistan.
But, the Turkish-Kurdish division has much more to do with Turkey's relations with its minority Kurdish population than with the Kurdistan region in Iraq.
Attacks on Turkish cities attributed to the PKK or its splinter groups have risen dramatically in the past year, with at least eight bombings since January. For Turkey, the PKK is not only an obstacle to EU accession, but to democratic advances in the country. According to turkishdailynews.com on April 21, the Turkish-Kurdish divide is widening, and nationalist sentiment is on the rise. In some areas of the country, campaigns are under way to encourage businesses not to employ Kurds, the website reported.
Turkey's handling of its Kurdish population has continued to raise questions from local and international observers. According to an April 26 report on bianet.org, some 55 minors remain in custody inside a Diyarbakir prison after being arrested for their alleged involvement in a wave of protests in the city earlier this year. More than 200 minors were initially arrested but most of them have been released. The Diyarbakir Bar Association's Children's Right Center has threatened to take Turkey to the European Court of Human Rights if the children are not released, the website reported.
Human Rights Watch (HRW) criticized Turkey for detaining one of its researchers in southeastern Turkey in early April, saying the researcher was detained, though not charged, and faced deportation after investigating alleged abuses by the Turkish police and government-armed local defense units. "The desire [by Turkey] to cover up human rights abuses is evidently still very strong despite recent moves towards more accountability in Turkey's bid for membership in the European Union," HRW said in an April 12 press release.
A Missed Opportunity?
Iraq's Kurdish leaders could play a key role in ameliorating Turkey's relations with its own Kurdish population. And it is likely that Iraq's Kurdish leaders would welcome the opportunity. Such a request from Ankara would signal its recognition of the positive role that can be played by Kurdistan's regional government.
Moreover, it is in the interests of Iraq's Kurdish leaders to maintain solid relations with their northern neighbor, in order to reinforce stability in the region and boost the region's economic development.
Turkey has always expressed the concern that Iraq's Kurdistan government would spur calls at home for greater Kurdish autonomy. But Iraq could also play a mediating role between Turkey and its Kurdish population. It could be to Turkey's benefit to recognize what Iraq's Kurds could bring to the table through such dialogue.
Iraq's Kurdish Region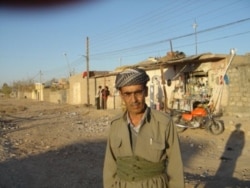 KURDISH AWAKENING: The ethnic Kurdish region in the northern part of Iraq has struggled in recent years to reestablish its cultural and political identity after decades of oppression under the regime of deposed Iraqi President Saddam Hussein. In December, RFE/RL correspondent Charles Recknagel traveled to this area and filed several reports:
Relative Peace Underscores Issue Of Kurdish Region's Future
Kurdish Culture Begins To Flourish In Kurdistan Region
Kurds Ponder How To Strengthen Autonomy After Elections