The decision looks likely to put pressure on Iraqi Prime Minister Nuri al-Maliki, who has promised justice for those allegedly killed by U.S. troops in another incident in Al-Hadithah.
Police in Ishaqi, 100 kilometers north of Baghdad, had said six adults and five children were shot dead in the U.S. raid on a home last March.
But a U.S. military spokesman, Major General William Caldwell, said early today that the probe concluded that U.S. forces acted correctly after they came under fire from a house as they arrived to arrest an Al-Qaeda suspect.
Caldwell acknowledged that up to 13 people might have been killed after troops called in an air strike. Local residents have alleged the troops shot and killed 11 civilians, including women and children: "The investigating officer concluded that possibly up to nine collateral deaths [in addition to four deaths originally reported by U.S. military] resulted from this engagement but could not determine the precise number due to collapsed walls and heavy debris. Allegations that the troops executed a family living in this safe house, and then hid the alleged crimes by directing an air strike, are absolutely false."
Al-Hadithah Probe
The findings come as the U.S. military continues its other major probe into the Al-Hadithah incident. There, U.S. Marines are accused of killing 24 civilians, including women and children.
On June 2, al-Maliki said he would demand that the United States hand over the files into the investigation of Al-Hadithah. The new prime minister is battling a widespread public perception that U.S. troops can shoot and kill with impunity -- and that Iraqi leaders are too weak to do anything about it.
U.S. defense officials say murder charges may be brought against Marines following a probe into the Al-Hadithah events, which some commentators are comparing to the 1968 My Lai massacre in Vietnam.
Defense Secretary Donald Rumsfeld, speaking on June 2 in Singapore, sought to play down the Al-Hadithah events as an isolated incident. He said that "99.9 percent of our forces conduct themselves in an exemplary manner."
"In this instance, there is an investigation with respect to what took place, and we'll soon know the answers. There's an investigation with respect to what took place thereafter, and we'll soon know the answers, and my impression is that the Marine Corps is handling it well," Rumsfeld said.
Ordinary Iraqis, however, said they won't be surprised if the U.S. Marines were acquitted.
"Do you think that the [U.S.] administration will put on trial its troops and punish them in the way we want?" one Baghdad resident told Reuters. "They said that American soldiers are beyond the reach of law and this means they have a premeditated intention and they know there are violations, but despite that, they insist that U.S. soldiers cannot be tried in Iraq and that they are not covered by Iraqi law."
The U.S. military says up to four other cases of allegations that U.S. troops killed Iraqi civilians are under investigation.
In one of those probes, U.S. military prosecutors were expected to charge seven Marines and one Navy sailor in the death of an Iraqi civilian. The eight men are being held in California for the April 26 killing of an Al-Hamandiyah man and a subsequent attempt to make him look like an insurgent by placing an AK-47 rifle near his body.
Sectarian Iraq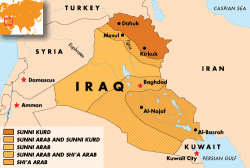 Click to enlarge the image.
SUNNI, SHI'A: Iraq is riven along sectarian lines, faults that frequently produce violent clashes and are a constant source of tension. Sectarian concerns drive much of Iraqi politics and are the main threat to the country's fragile security environment.


THE COMPLETE PICTURE: Click on the image to view RFE/RL's complete coverage of events in Iraq and that country's ongoing transition.