The five permanent members of the UN Security Council, plus Germany, on June 1 agreed to offer Iran a package of incentives if it gives up its uranium enrichment, or impose penalties if it does not.
The United States agreed earlier this week to join the EU-led nuclear talks on condition that Iran suspend all uranium enrichment.
'Negotiations Without Preconditions'
Mottaki, however, told reporters in the Iranian capital that any negotiations must be without preconditions.
"The issue that should be considered as a main basis, is that the negotiations should be without a precondition, meaning no condition can be accepted for the talks, including the items they brought up such as measures to be taken and so on," he said.

"As for the proposals, we are waiting for the proposals to be handed to us in the next few days, after we discuss the contents of the proposals and the outcomes of the Vienna meeting, we will announce our opinion," he added.

Mottaki's statement appeared to be more moderate than remarks made on June 1 by Iranian President Mahmud Ahmadinejad. He said Western pressure would not succeed in depriving Iran of its right to nuclear technology.
In Washington, U.S. State Department spokesman Tom Casey told reporters on June 2 that the United States did not consider Ahmadinejad's comments to be a formal response to the package. Casey urged Iran to choose "the path of cooperation" once it has carefully studied the proposal.
"I think before we can consider that there's an Iranian reaction to the package, the package needs to be presented to them. Again, I think if Iran chooses the path of cooperation, if Iran decides to suspend uranium enrichment, come back to talks, negotiate in good faith and move forward on this, then this is something that can be beneficial not only for the rest of the international community but for Iran and for Iran's people as well," Casey said.
Solana Visit
Meanwhile today, EU High Representative for Common Foreign and Security Policy Javier Solana is ready to travel at short notice to Iran to present the international proposals, his spokeswoman Christina Gallach said . No date has been set for the trip.
"It will not be a negotiating trip. It will be a presentational trip," Gallach added.
Solana is due to travel to the Middle East on June 4 although his official agenda only showed details for his schedule on June 5, when he is due to be in Jerusalem and Ramallah to meet with Israeli and Palestinian officials.
What Would Sanctions Mean?
What Would Sanctions Mean?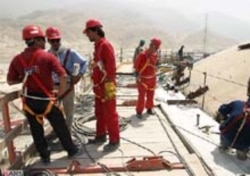 Economic sanctions could further undermine Iran's already shaky economy (Fars)


MOVING TOWARD SANCTIONS: If the United Nations Security Council imposes sanctions on Iran, domestic support for Iranian President Mahmud Ahmadinejad will wane, according to ALEX VATANKA, Eurasia editor for Jane's Information Group.
Vatanka told a February 24 RFE/RL briefing that "economic sanctions will hurt the average Iranian" and, consequently, many "will blame the ruling clerics" for making life difficult and "impairing the country's long term development."
Vatanka said sanctions would be a serious challenge to the Iranian government. If harsh economic sanctions were imposed, Iran's poorest population will be hurt the hardest -- and might react "as they did in the 1970s and protest in the streets." Sanctions on travel, Vatanka said, would hurt a many Iranians because "Iran is a nation of small traders" who depend on the ability to travel to earn an income. According to Vatanka, unemployment in Iran is estimated at 30 percent, "so small trading is essential to survival." Although current U.S. sanctions "haven't worked," he said, "Iranians fear an oil embargo." He stressed that "oil revenues are a major part of the economy, so it is critical to look at this sector."
Should negotiations with the European Union and the UN fail, Vatanka believes that Iran would follow a "North Korea model," since Ahmadinejad's base of support among the "Islamist militias" has been "urging withdrawal from the NPT [Nuclear Non-Proliferation Treaty]." The Iranian government's "tactic" so far, Vatanka said, is governed by the belief that "by shouting the loudest, you'll get concessions [from the West]."
LISTEN
Listen to the complete panel discussion (about 60 minutes):

Real Audio
Windows Media

THE COMPLETE STORY: RFE/RL's coverage of the controversy surrounding Iran's nuclear program.
CHRONOLOGY
An annotated timeline of Iran's nuclear program.