A local government official in the town of Qara Tappah said the incident occurred in the early morning after three minibuses left the town headed for Ba'qubah.
He said the gunmen dragged 25 people from the buses, separated four Sunni Arabs in the group, and shot all the rest.
Police said the victims included students, children, and old men.
Meanwhile, Iraqi police say at least 11 people were killed in a clash between police and gunmen at a mosque in the southern city of Al-Basrah today.
The police said their men surrounded the mosque after receiving reports that armed men were inside. They say the gunmen began firing.
But a Sunni group, Sunni Endowment, said the police had fired at unarmed civilians, and that there were no gunmen in the mosque.
The clash follows the June 3 car bombing at a Al-Basrah market, which killed at least 27 people and injured at least 50 others.
(AFP, Reuters, AP)
Sectarian Iraq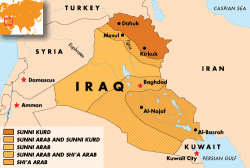 Click to enlarge the image.
SUNNI, SHI'A: Iraq is riven along sectarian lines, faults that frequently produce violent clashes and are a constant source of tension. Sectarian concerns drive much of Iraqi politics and are the main threat to the country's fragile security environment.


THE COMPLETE PICTURE: Click on the image to view RFE/RL's complete coverage of events in Iraq and that country's ongoing transition.