The blast came three days after the central government announced a state of emergency in Al-Basrah to crack down on gang feuds there.
In Ba'qubah, at least six police officers were killed in an insurgent attack on a checkpoint. Police also found eight severed heads north of Baghdad. The victims were apparently killed in sectarian retaliation for the slayings of several Shi'a.
Meanwhile, unidentified gunmen killed a Russian diplomat and kidnapped four Russian Embassy employees in Baghdad today.
Officials say the gunmen used at least two vehicles to block off a street, then opened fire on the Russians' diplomatic car, fatally wounding one before abducting the others.
Russia's Foreign Ministry says it is working with Iraqi and international authorities to secure the staffers' release.
(compiled from agency reports)

Sectarian Iraq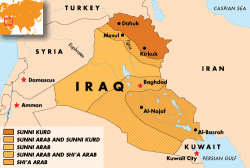 Click to enlarge the image.
SUNNI, SHI'A: Iraq is riven along sectarian lines, faults that frequently produce violent clashes and are a constant source of tension. Sectarian concerns drive much of Iraqi politics and are the main threat to the country's fragile security environment.


THE COMPLETE PICTURE: Click on the image to view RFE/RL's complete coverage of events in Iraq and that country's ongoing transition.