Rumsfeld Defends U.S. Conduct In Iraq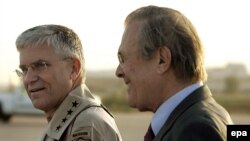 U.S. Defense Secretary Rumsfeld (right) on a trip to Iraq in April (epa) June 2, 2006 -- U.S. Defense Secretary Donald Rumsfeld today defended the training and conduct of U.S. troops in the wake of the alleged massacre of 24 Iraqi civilians by U.S. Marines.
Speaking in Singapore at a gathering of defense ministers, Rumsfeld said "we don't expect U.S. soldiers to act that way, and they're not trained to." But he said that in conflicts, "things that shouldn't happen do happen."
He expressed confidence in an investigation now being conducted into the killings in Al-Hadithah in November.
In Washington, U.S. President George W. Bush pledged to disclose the full results of that investigation. He said people will be held to account if crimes were committed.
A top U.S. general in Iraq -- Lieutenant General Peter Chiarelli -- has ordered that U.S. troops be given training in ethical and moral behavior.
(compiled from agency reports)


SUBSCRIBE For weekly news and analysis on Iraq by e-mail,
subscribe to "RFE/RL Iraq Report."