U.S. Cabinet Officials Defend Spending For Iraq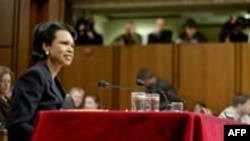 U.S. Secretary of State Condeleezza Rice pictured during her confirmation hearings in 2005 (AFP) March 9, 2006 -- U.S. Secretary of State Condoleezza Rice and Defense Secretary Donald Rumsfeld today defended the level of U.S. spending in Iraq during cross-questioning by the Senate Appropriations Committee.
The White House is asking Congress for $70 billion in new emergency funds for use in combating insurgencies in Iraq and Afghanistan, and will seek an additional $50 billion for the fiscal year 2007.
On Iran, Rice said the country poses greatest challenge to the United States after the Islamic republic's leadership vowed no compromise with the West in a standoff over its nuclear programs.
(Reuters)