Rice, Rumsfeld 'Inspired' By Iraqi Leaders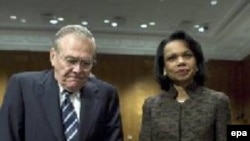 U.S. Secretary of Defense Donald Rumsfeld (left) and Secretary of State Condoleezza Rice pictured at a congressional hearing in December (file photo) (epa) April 27, 2006 -- U.S. Secretary of State Condoleezza Rice said today she and Defense Secretary Donald Rumsfeld found the leaders building Iraq's new government "inspiring."
MNRice described the representatives of the emerging government "focused" and "serious."
Rice and Rumsfeld said on April 26 that they were impressed with the commitment of Iraq's new prime minister-designate, Nuri Kamil al-Maliki, to unite the country.
Al-Maliki, a Shi'a, has pledged to draw together majority Shi'ite Muslims, Sunni Arabs, and Kurds in a bid to end the bloody insurgency and mounting sectarian violence in the country.
(Reuters, AFP)


SUBSCRIBE For weekly news and analysis on Iraq by e-mail,
subscribe to "RFE/RL Iraq Report."