Ukraine-NATO Exercises To Proceed Despite Protests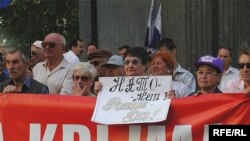 Anti-NATO protests in Simferopol, June 2 (RFE/RL) June 4, 2006 -- Ukrainian President Viktor Yushchenko says controversial joint Ukraine-NATO military exercises will go ahead despite strong protests.
In a presidential decree, Yushchenko ordered authorities to expel foreigners accused by Kyiv of taking part in anti-NATO demonstrations in the Crimean Peninsula.
The protests by pro-Russian activists started on May 27 with the arrival of the "USS Advantage" at the port of Feodosiya.
(AFP)