PRAGUE, June 5, 2006 (RFE/RL) -- Germany takes over the rotating presidency of the European Union in just six months, and officials in Berlin are busy making a list of what they hope to achieve during the country's six-month term of office.

The Foreign Ministry in Berlin says nothing has been finalized.

But ministry spokeswoman Kamilla Preusse told RFE/RL that relations with Central Asia are likely to figure as a priority issue.

"The main themes we want to deal with in our presidency are now being selected, and Central Asia is [set to be] one of the most important topics of our presidency," Preusse said. "But at the moment, it's too early to give details."

Central Asian Welcome

Even with things still up in the air, Kazakhstan's foreign minister, Kasymzhomart Tokaev, has embraced the idea.

Tokaev told an international economic conference in Berlin on May 18 that Kazakhstan "supports" the German intention to unify EU strategy in Central Asia. He said the region is turning from a peripheral area into "one of the key geo-economic elements of the Eurasian continent."
"It's a region that sounds and feels very remote from us. But actually, as Europe marches eastwards, it gets progressively closer."
Tokaev pointed to the region's mineral and oil wealth, as well as its strategic location between the giants Russia and China.

Energy Reserves

Analysts agree that Central Asia's valuable resources and potential for political instability mean it should be an object of European diplomatic attention.

Edmund Herzig, of the Royal Institute of International Affairs in London, noted the importance of Central Asian oil and gas reserves to Europe -- especially when many Europeans are worried at their growing dependence on energy supplies from Russsia.

"It is an important -- and potentially very important -- region for European energy security if we are looking to diversify sources of energy supply," Herzig said. "It's a region that sounds and feels very remote from us. But actually, as Europe marches eastwards, it gets progressively closer."

Herzig noted Turkey's expectation of joining the EU. If that happens, he said, Central Asia will be practically in the near vicinity of Europe -- particularly as Turkey has close historical and linguistic ties to Central Asia.
Russian, Chinese Gains?

Matthew Clements is the Eurasian editor of the British security-assessment journal "Jane's Country Risk." He said that Western powers have lost focus on Central Asia -- while Russia and China have gained in influence.

"The Western efforts in the area have been disunified, [and] I think the United States has become less interested in the region as the insurgency in Iraq has gone on," Clements said. "The point is, there has not really been a unified EU policy [on Central Asia]. It would be very interesting to see what the [German] proposal would be, what kind of aspects it would take on."

Clements suggested that a unified European policy on Central Asia could be nuanced in either of two directions: "whether it is going to be working with the governments -- offering aid to them, possibly in exchange for energy guarantees in return -- or whether it is going to be kind of pro- democracy, pro-human rights [effort] which would not involve working so closely with the governments, and in fact could even mean going against them."

Clements said a soft-line amalgam of aid and dialogue with the region's governments seems the most likely path.

Herzig said he sees additional reasons why closer European engagement with the Central Asians could be useful. The region, he said, is a source of some of the problems that beset Europe.

"It's an extremely strategic area, there is no doubt, and both in military geopolitical terms and in terms of energy supply," Herzig said. "[It] is potentially very important for Europe in all kinds of ways. It's important [also] in people trafficking, [and] very important in drugs trafficking."

Backers of the German approach argue that an engaged European Union -- with coherent policy objectives -- could help reduce these social evils at the source.
Central Asia Gas Pipelines
Central Asia Gas Pipelines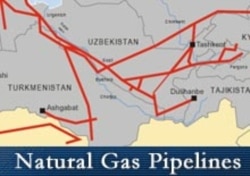 Click on the map for an enlarged image.

Russia's rising appetite for Central Asian gas is a direct result of the shifting fortunes of Gazprom, the state-run Russian company that controls lucrative exports. The company's total gas production has flatlined at around 550 billion cubic meters (bcm) a year. With major fields yielding less as they age, Gazprom has chosen to maintain its all-important gas balance by purchasing gas on the side -- from independent producers in Russia and from Russia's Central Asian neighbors -- instead of investing in the lengthy and costly development of untapped Arctic fields...(more)
See also: