Niyazov arrived in China for a rare visit on April 2 amid anticipation that a pipeline deal was in the works. The two countries inked the framework agreement the next day. A text of the pipeline agreement published by official Turkmen news agency TDH states that China will buy 30 billion cubic meters (bcm) of Turkmen gas each year for 30 years, starting in 2009. The initial agreement leaves the nuts and bolts of pipeline construction to be worked out by December 31, 2006. Official reports were mum on financial details, but Russia's "Kommersant" reported on April 3 that Niyazov would use his visit to China to try to convince the Chinese side to finance the pipeline project.
A Turkmen television report on April 8 suggested an earlier start date and provided additional information about the pipeline route. "In the first phase [of the project], we plan, starting from 2008, to deliver some 30 bcm of Turkmen gas [annually] via Uzbekistan and Kazakhstan, to Urumci [western China] and beyond it, to Shanghai [eastern China], and to increase these volumes to up to 50 bcm by 2010," the station reported.
Many Skeptics
Outside observers reacted skeptically to the deal, raising doubts about both Turkmenistan's ability to meet additional export commitments and the project's overall feasibility. In an interview with the Turkmen opposition website gundogar.org, Dr. Roland Goetz, an energy expert at Germany's Institute for International and Security Affairs, noted that no one really knows how much gas Turkmenistan possesses. Official statistics put Turkmenistan's total production in 2005 at 63 bcm, with exports amounting to 45 bcm (see "RFE/RL Newsline," 12 January 2006). Estimating Turkmenistan's maximum export potential at 100-120 bcm/year and noting that the pipeline to China would have to traverse 4,000 kilometers, Goetz concluded, "I doubt the economic feasibility of this entire idea." He added, however, that for China, political and military factors might outweigh economic considerations. Goetz also noted that since the new pipeline would give Turkmenistan a measure of independence from Russia, "Ashgabat will do everything possible to bring the project to completion."
Others views of Turkmenistan's production potential are grimmer. In a contribution to "The Washington Post" on April 6, Nadejda M. Victor, a research fellow at the Program on Energy and Sustainable Development at Stanford University, wrote that "Turkmen gas production is poised to decline and Turkmenistan's gas industry is barely functional because the country's political environment is scary for long-term investors."
China is serious about its desire to ensure energy shipments from the West. It recently spent more than $4 billion to acquire an oil company with production assets in Kazakhstan (see "RFE/RL Newsline," October 19, 2005) and has reached an agreement with Russia to build a natural-gas pipeline from Siberia (see "RFE/RL Newsline," March 22, 2006).
Nevertheless, the doubts about the Turkmen project are well-founded, and other projected Turkmen pipelines -- across Afghanistan and across the Caspian -- have remained pipe dreams. But the framework agreement signed in Beijing is still a serious indicator of Turkmenistan's intentions, the outlines of future geopolitical jostling for primacy in the Eurasian energy sphere, and problems on the horizon for Russia.
Message From Ashgabat
One obvious message the Turkmen-Chinese framework agreement sends is that Turkmenistan will continue its push for higher prices in its negotiations with current customers (Russia, Ukraine, and Iran). The agreement does not specify a price for the Chinese gas purchases that are to begin in 2009, but it states that the price "will be set on a reasonable and just basis, based on a comparable price on the international market," and paid "exclusively in U.S. dollars." President Niyazov said in February that Turkmenistan intends to raise the export price of its natural gas from $65 to $100 per 1,000 cubic meters in the fall (see "RFE/RL Newsline," February 13, 2006). The framework agreement suggests that Russia and Ukraine should take note.
Another message the agreement entails is that the first serious clash between Russian and Chinese interests in Central Asia will likely occur in the energy sphere. Russia's Gazprom is set to become increasingly dependent on Central Asian imports to maintain the company's sagging gas balance and can be expected to exert political leverage to defend its interests in this vital region. If China makes a serious push to gain access to Central Asian gas -- replete with investments in a pipeline that links Turkmenistan, Uzbekistan, and Kazakhstan -- it could set the stage for Central Asian competition between Beijing and the Kremlin.
Gazprom Squeezed
Finally, the emerging contours of competition for access to energy resources in Central Asia are another cloud on the horizon for Gazprom. Gazprom's short-term strategy envisages a major increase in purchases of Central Asian gas. Vladimir Milov, from the Institute for Energy Policy, explained in a briefing at the Carnegie Endowment in Washington, D.C., on March 16 that Gazprom will have no means to offset declining domestic gas production beginning in 2008, and by 2010 will be purchasing 100 bcm of gas from Central Asia. Gazprom is counting on Turkmenistan to provide the bulk of that gas, with purchases slated to go to 70-80 bcm a year as early as 2007-08.
Gazprom's future plans assume that Turkmenistan will sell virtually all of its export production to Russia. But the draft agreement between China and Turkmenistan implies that if the new pipeline becomes a reality, it could be a priority commitment for Turkmenistan. The text states that the gas for export to China will come from fields on the right bank of the Amu-Darya River, but it adds, "If additional volumes of gas are required to build the Turkmenistan-China gas pipeline, the Turkmen side can guarantee gas shipments from other gas fields."
Both Milov and Victor warn that Russia, a key supplier of gas to Europe, could face a supply crunch in the not-so-distant future. Goetz stresses that Turkmenistan's negotiations with China point in exactly this direction: "For now, Ashgabat is, so to speak, loyal to Moscow, but if President Niyazov suddenly changes his mind, this could have implications for the entire energy situation, including the situation in Europe."
Central Asia Gas Pipelines
Central Asia Gas Pipelines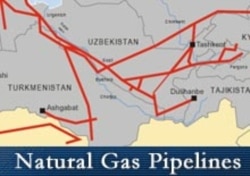 Click on the map for an enlarged image.

Russia's rising appetite for Central Asian gas is a direct result of the shifting fortunes of Gazprom, the state-run Russian company that controls lucrative exports. The company's total gas production has flatlined at around 550 billion cubic meters (bcm) a year. With major fields yielding less as they age, Gazprom has chosen to maintain its all-important gas balance by purchasing gas on the side -- from independent producers in Russia and from Russia's Central Asian neighbors -- instead of investing in the lengthy and costly development of untapped Arctic fields...(more)
See also: