China's official Xinhua news agency says the document foresees China and Turkmenistan cracking down on separatist forces in "East Turkestan." Some Muslim Uighurs -- the majority in China's western Xinjiang province -- are seeking an independent state they call "East Turkestan."
On April 3, Niyazov and Hu signed an agreement on building a gas pipeline linking their countries. Turkmenistan's state newspaper, "Neutralny Turkmenistan," says the pipeline will enter operation in 2009.
Niyazov's six-day visit to China began on April 2.
(AP, Xinhua, Reuters)

Central Asia Gas Pipelines
Central Asia Gas Pipelines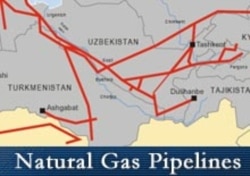 Click on the map for an enlarged image.

Russia's rising appetite for Central Asian gas is a direct result of the shifting fortunes of Gazprom, the state-run Russian company that controls lucrative exports. The company's total gas production has flatlined at around 550 billion cubic meters (bcm) a year. With major fields yielding less as they age, Gazprom has chosen to maintain its all-important gas balance by purchasing gas on the side -- from independent producers in Russia and from Russia's Central Asian neighbors -- instead of investing in the lengthy and costly development of untapped Arctic fields...(more)
See also: