PRAGUE, 21 February 2006 (RFE/RL) -- The Yadavaran oil field has crude oil reserves estimated at three billion barrels. That appears to be an irresistible statistic for China, whose oil-hungry economy is slated to grow another 9 percent this year.
The Yadavaran project could add up to 300,000 barrels of crude per day to China's oil supplies -- a source Beijing is unlikely to ignore given its need for hydrocarbon energy.
"China is approximately the only country which does not condemn [Iran] for the moment, so it is becoming more and more important [to Iran], which is good for China so that it can get its energy."
Iran Important To China
The head of the Overseas Projects Department of the Chinese state oil company Sinopec, G.G. Li, told RFE/RL from Beijing that China values Iran as a continuing source of energy.
"Of course Iran, in terms of energy, with its oil, is important for the Chinese economy, for Sinopec, I believe that," he said.
Some analysts say that to get at the oil, China would not hesitate to break any sanctions that the United Nations Security Council might impose on Iran because of suspicions over the aims of its nuclear power program.
Using Iran?
But senior analyst Manuchehr Takin, of the Center for Global Energy Studies in London, thinks that's a scenario sketched too starkly in black and white. "In terms of geopolitics at a higher level, China might weigh in its relations with Russia and the United States and others, and in the [United Nations'] Security Council there [might be] other deals, and they have to give and take; it could be that Iran could be sacrificed in all of this," Takin said.
Takin notes that much to the surprise of Tehran, China as well as Russia sided with the United States and European countries at this month's board meeting of the International Atomic Energy Agency, which decided to report Iran to the UN Security Council -- a move which could eventually lead to economic sanctions being imposed.
This could explain why Tehran and Beijing -- after several years of delays -- want now to quickly conclude a deal to develop the Yadavaran oil field before sanctions could be applied.
Ready To Do Business
China's Sinopec will reportedly have a controlling 51 percent stake in the Yadavaran project, with the National Iranian Oil Company (NIOC) taking about a 20 percent share. But foreign companies are also eager prospective partners. India's Oil and Natural Gas Corporation is buying into the project, and the Anglo-Dutch Shell -- the world's second biggest oil company -- is also interested.
Shell last year supported Sinopec in preparing a technical assessment on developing the new oilfield. Sinopec later handed this assessment to Iran's NIOC, and there have already been discussions on the proposal.
Shell spokeswoman Caroline Wittgen told RFE/RL from company headquarters in London that Shell remains "interested in participating in the future development of Yadavaran." She did not elaborate.
Analyst Takin says big oil companies are accustomed to working in difficult sociopolitical environments and are not easily deterred by the prospect of sanctions on Iran. "They have been for a 100 years taking risks in turbulent politics, before and after the war and through history in different parts of the world where local conflicts have been going on, and oil companies have been involved in these operations, that is how they make money, and they are not going to get out of Iran quickly," he said.
The broad backing for the Yadavaran project illustrates the difficulties facing the U.S.-led effort to deter Iran from pursuing its nuclear program.
Beijing And UN Sanctions
China was reluctant to support the IAEA decision to report Tehran to the UN Security Council, and China -- a veto holding member of the Security Council -- does not usually favor the concept of sanctions, which it sees as an infringement of a nation's sovereignty.
This means that even if the nuclear issue results in the imposition of punitive UN measures against Iran, they are unlikely to be so severe as to isolate Tehran.
Jean-Philippe Beja, a senior analyst at the Center for International Studies and Research in Paris, says Iran has continuing leverage on Beijing because of its oil resources.
"China is approximately the only country which does not condemn [Iran] for the moment, so it is becoming more and more important [to Iran], which is good for China so that it can get its energy; in a way the Iran-China relationship is a win-win situation for both," he said.
China's Foreign Ministry reiterated today its call for a diplomatic compromise to resolve the nuclear row.
Security Guarantees For Iran?
Security Guarantees For Iran?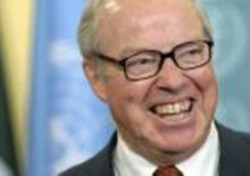 Hans Blix (CTK)

SECURITY GUARANTEES On January 26, RFE/RL Radio Farda correspondent Fatemeh Aman spoke with former UN chief weapons inspector HANS BLIX about the confrontation between Iran and the international community over Tehran's nuclear ambitions. Blix urged the United States to participate in direct negotiations with Tehran and to offer Iran security guarantees that are similar to those being discussed with North Korea...(more)
LISTEN
Listen to the complete interview (about five minutes):

Real Audio
Windows Media

THE COMPLETE STORY: RFE/RL's complete coverage of controversy surrounding Iran's nuclear program.