The offer was agreed last week by the five permanent members of the UN Security Council, plus Germany. It offers incentives if Iran halts uranium enrichment, but also threatens penalties if it defies international demands.
Solana is expected only to present the package and not to negotiate with Iranian officials.
British Foreign Secretary Margaret Beckett announced in Vienna on June 1 that Iran would benefit greatly from the incentives being offered if it agrees to forego its nuclear ambitions.
Take The Carrot Or The Stick
If it doesn't agree, Beckett said, the six governments have drawn up a list of potential penalties to be imposed by the UN Security Council.
In advance of the Tehran meeting, Solana made it clear that rejecting the package would send a signal to the West.
"If they reject it, it probably will be once again a clear sign that what they are looking for is not only the production of energy, but [that] they are looking for a level of enrichment that goes way beyond what is necessary [for] the production of energy, entering into what we may call nuclear-weapon type of enrichment," Solana said in Brussels on May 30.
The details of the six-nation offer have not been disclosed. But the incentives reportedly include help for Iran's commercial nuclear energy industry and guarantees of long-term foreign supplies of uranium fuel. That way, Iran wouldn't need to produce its own uranium fuel through enrichment, which can also be a step toward nuclear weapons.
Reports on the possible penalties are less specific. One U.S. newspaper, "The Washington Post," has reported that the Security Council would be able to choose from a broad range, from serious to relatively minor.
In the meantime, the United States has offered to take part directly in meetings Iran has been holding with Britain, France, and Germany -- known as the EU-3. So far, Washington has not been a direct participant, but has merely supported the group's goals.
(with material from Reuters)
Security Guarantees For Iran?
Security Guarantees For Iran?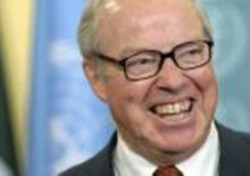 Hans Blix (CTK)

SECURITY GUARANTEES On January 26, RFE/RL Radio Farda correspondent Fatemeh Aman spoke with former UN chief weapons inspector HANS BLIX about the confrontation between Iran and the international community over Tehran's nuclear ambitions. Blix urged the United States to participate in direct negotiations with Tehran and to offer Iran security guarantees that are similar to those being discussed with North Korea...(more)
LISTEN
Listen to the complete interview (about five minutes):

Real Audio
Windows Media

THE COMPLETE STORY: RFE/RL's complete coverage of controversy surrounding Iran's nuclear program.