Tymoshenko's Return Not 'Fatal,' Says Yushchenko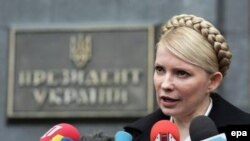 Yuliya Tymoshenko pictured after meeting with President Viktor Yushchenko shortly after parliamentary elections in March (epa) June 6, 2006 -- Ukrainian President Viktor Yushchenko says a proposal that Yuliya Tymoshenko should head a new government would not be "fatal" to coalition talks.
Yushchenko's Our Ukraine, Tymoshenko's party, and another 2004 Orange Revolution ally, the Socialist Party, are seeking to form a coalition, but disagreements over the distribution of cabinet posts have proven to be a major obstacle.
Tymoshenko insists she should return to the post of prime minister -- from which Yushchenko fired her -- because her party emerged from March's parliamentary elections with more votes than its potential coalition partners.
The pro-Russian Party of the Regions won the elections but failed to secure a majority in parliament.
Yushchenko says he is hopeful a coalition can be formed this month. He is due to meet representatives of the three parties later today.
(Reuters, "Ukrayinska pravda," Interfax-Ukraine)

BEHIND THE IMAGES: Click on the links below to read RFE/RL's profiles of some of the key players in Ukraine's March 26 legislative elections:

Click on the image for background and archived articles about Ukraine's March 26 elections.




Click on the image to see RFE/RL's coverage of the Ukrainian elections in Ukrainian.

Click on the image to view a photo gallery of some of the key players in the Ukrainian elections.