U.S. Encouraged That Iran Taking Offer Seriously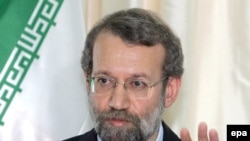 Ali Larijani has described the package as positive (file photo) (epa) June 6, 2006 -- The United States today welcomed signs that Iran is seriously considering proposals from six world powers meant to persuade Tehran to curb its nuclear program.
Iranian chief nuclear negotiator Ali Larijani has described the package of incentives and penalties as positive but said it contains "ambiguities" that should be removed.
The package was presented to Larijani earlier today in Tehran by EU High Representative for Common Foreign and Security Policy Javier Solana.
White House spokesman Tony Snow, who is traveling with President George W. Bush in New Mexico, declined to comment on the package. But Snow said it is imperative that Iran suspend its uranium-enrichment activities.
In Washington, State Department spokesman Sean McCormack also expressed hope that Iran will respond positively to the proposals. McCormack reiterated the U.S. view that Tehran's response should be made within weeks rather than months.
(Reuters, AP)

THE COMPLETE PICTURE: RFE/RL's complete coverage of controversy surrounding Iran's nuclear program.
CHRONOLOGY
An
annotated timeline
of Iran's nuclear program.