In a speech in the Iranian city of Qazvin today, Ahmadinejad insisted that Iran would not negotiate over its rights to pursue peaceful nuclear technology.
"You should know that the Iranian nation will not retreat [at all] from its path toward progress, from its path toward accessing [modern] technologies," he said.
The comment came one day after the United States said Tehran must suspend uranium enrichment throughout any negotiations with major world powers on Iran's nuclear activities.
Iran earlier said it was studying the proposal of incentives from the major powers aimed at persuading Tehran to halt uranium-enrichment activities that Western countries fear could be used for atomic weapons.
The International Atomic Energy Agency, the United Nations' nuclear watchdog agency, is expected today to issue an updated report on Iran's uranium-enrichment activities.
(Reuters, AFP, dpa)
What The Street Thinks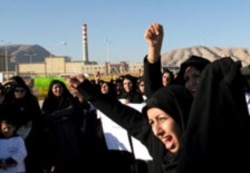 A demonstration in support of Iran's nuclear program outside the Isfahan uranium-conversion facility in Isfahan in January (epa)

IRANIANS SPEAK OUT ON THE DISPUTE: To find out more about what Iranians think about the international controversy over their country's nuclear program, RADIO FARDA asked listeners to express their views....(more)
See also:
Iran: Public Has Mixed Feelings On Nuclear Issue

THE COMPLETE PICTURE: RFE/RL's complete coverage of controversy surrounding Iran's nuclear program.
CHRONOLOGY
An annotated timeline of Iran's nuclear program.