IAEA Says Iran Continuing Nuclear Work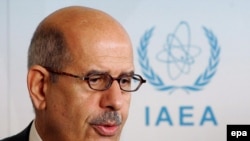 The head of the International Atomic Energy Agency, Muhammad el-Baradei (file photo) (epa) June 8, 2006 -- A new report by the UN nuclear agency says Iran is continuing to enrich uranium.
The confidential report, which was today among the International Atomic Energy Agency's 35 member nations, also indicates that nuclear inspectors have made little progress on shedding light on other, worrying aspects of Tehran's nuclear activities in the past.
The report said Iran has slowed down its nuclear enrichment work over the past month. But it added that Tehran is continuing experiments with the technology, which world powers fear might be used to make nuclear arms.
Tehran say its nuclear program is for peaceful purposes only.
(AP, AFP)


THE COMPLETE PICTURE: RFE/RL's complete coverage of controversy surrounding Iran's nuclear program.
CHRONOLOGY
An
annotated timeline
of Iran's nuclear program.