Islamist Group In Northern Kazakhstan Broken Up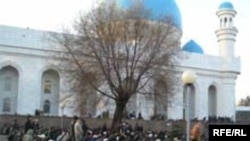 Kazakh Muslims at prayer (RFE/RL) June 8, 2006 -- Police in the northern Kazakh city of Petropavlovsk say they have dismantled an underground cell of a nonviolent Islamic revivalist group.
The police made no arrests, but fined the members of the group and placed under surveillance.
The group, Tabligh Jamaat, or Society for the Propagation of the Faith, was set up in India in the 1920s. It is believed to have many followers in Central Asia.
(Interfax-Kazakhstan)