Relative Says Jailed Uzbek Oppositionist In Disciplinary Cell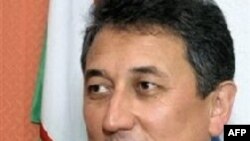 Sanjar Umarov in May 2005 (AFP) June 9, 2006 -- An Uzbek website reports that Sanjar Umarov, the jailed leader of the Sunshine Uzbekistan opposition coalition, has been sitting in a disciplinary cell for the past eight days.
The opposition-leaning ferghana.ru website quotes Umarov's sister as saying she received the news on June 8 when she went to visit her brother at the Bukhara prison colony, where he had been transferred in May. She said the prison administration refused to deliver food she brought for Umarov and guards told her that her brother had been sentenced to 16 days of disciplinary cell on June 1.

Umarov, a wealthy businessman, was detained in October and sentenced in March to 10 1/2 years in prison on charges of tax evasion, embezzlement, and money laundering.

His sentence was later reduced to seven years, and a court also ruled that Umarov must pay more than $8 million in fines while banning him from any business activities in Uzbekistan for three years after the date of his release.

Another Sunshine Uzbekistan activist, Nodira Hidoyatova, was released from custody on May 23.