Bush says the United States is in the process of working with countries to repatriate some of the detainees.
Currently about 460 prisoners are being held at the military-run prison at Guantanamo.
(AFP)
U.S. Undersecretary Of State Karen Hughes
U.S. Undersecretary Of State Karen Hughes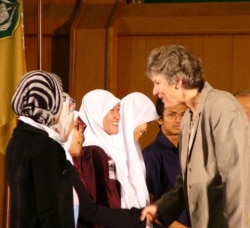 U.S. Undersecretary of State Karen Hughes greets students from the State Islamic University in Jakarta, Indonesia, on October 21, 2005 (official site)

MEET THE NEWSMAKER: Undersecretary of State for Public Diplomacy and Public Affairs KAREN HUGHES has been tasked by U.S. President George W. Bush with leading efforts to promote U.S. values and confront ideological support for terrorism around the world.
She oversees three bureaus at the U.S. State Department: Educational and Cultural Affairs, Public Affairs, and International Information Programs. She also participates in foreign-policy development at the State Department.
A longtime adviser to Bush, Hughes served as counselor to the president for his first 18 months in the White House. As counselor, she was involved in major domestic and foreign-policy issues, led the communications effort in the first year of the war against terrorism, and managed the White House Offices of Communications, Media Affairs, Speechwriting and the Press Secretary.
Hughes returned to Texas in 2002, but continued to serve as an informal advisor to the president and was a communications consultant for his 2004 reelection campaign.
She is the author of "Ten Minutes From Normal," the story of her experiences working for Bush, and she helped write the president's autobiography, "A Charge To Keep"....(more)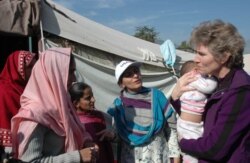 Karen Hughes on November 14, 2005, speaks to Pakistani women who were left homeless by an earthquake in that country in October 2005 (official site)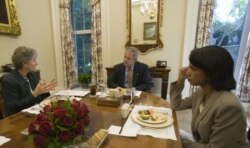 Karen Hughes (left) having a working lunch with President George W. Bush (center) and Secretary of State Condoleeza Rice in the White House on October 5, 2005 (official site)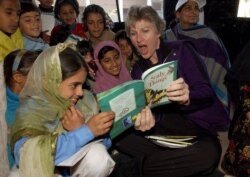 Hughes (right) reads a book with Kashmiri earthquake survivors during a visit to a tent school in Muzaffarabad on November 14, 2005 (official site)
RELATED ARTICLES
Karen Hughes Asks Religious Groups To Battle Terrorism
Hughes Vows To Invigorate U.S. Public Diplomacy Efforts
Hughes To Shape Policy With Public Image In Mind


THE COMPLETE STORY: A complete archive of RFE/RL's coverage of the global war on terrorism.