U.S. State Department spokesman Sean McCormack said on June 9 that it is unacceptable for a UN official to criticize a member country in such a way.
"We were very disappointed by the fact that a high-ranking UN official would single out a member-country, as [Mark Malloch Brown] did," McCormack said. "We find this very disappointing, almost unprecedented. I don't think that we could really find another example of that before."
In his speech, Malloch Brown told a New York conference of U.S. foreign policymakers largely from the opposition Democratic Party that the UN's failures were to some degree "because the U.S. has not stuck with its project, its professed wish to have a strong effective United Nations, in a systematic way."
"The speech was very, very carefully worked. I struggled with every word of it and some of you know that normally I may speak spontaneously from notes. But I felt this was something very important to say and to say now because we are in crisis." -- Malloch Brown
"The prevailing practice of seeking to use the UN almost by stealth as a diplomatic tool, while failing to stand up for it against its domestic critics, is simply not sustainable," he said.
U.S. Failure To Compromise?
But what appears to have caused the most ire in Washington is Malloch Brown's opinion that the United States tends to hold on to maximalist positions when it could be finding more middle ground.
In the days since those remarks, some U.S. critics have called the speech an anti-American attack.
But Malloch Brown says anti-Americanism was not his motive or intention.
"I don't think [the speech] could be possibly characterized as anti-U.S. but which is intended as a very pro-U.S. speech and that its central point is an appeal for more consistent public leadership by the United States in the United Nations," Malloch Brown said.
Secretary-General Backs His Deputy
UN Secretary-General Kofi Annan has stood firmly behind Malloch Brown's words and said that any controversial remarks have been taken out of context.
"The message that was intended is that the U.S. needs the UN and the UN needs the U.S. and we need to support each other," Annan said. "The UN in terms of power structure is too narrowly based where most member states believe five countries call the shots and some adjustments will have to be made. In fact in the past I've even referred to a 'democracy deficit' in the way we govern the UN. So I think the speech by my deputy should be read in the right spirit, and let's put it behind us and move on."
Ian Williams, the UN correspondent for the weekly magazine "The Nation" and the author of the book "UN For Beginners," says the remarks have created divided opinions in the U.S. capital.
"You have to remember that Senator Christopher Dodd [Democrat, Connecticut] has come out in support of him [Malloch Brown], Congressman Jim Leach [Iowa], ranking Republican who was there, I believe is supporting him. He actually spoke at the same conference and was equally critical," Williams said. "[U.S. Ambassador to the UN] John Bolton is speaking for the administration, but he is not speaking for America as a totality. Many Americans are deeply concerned about this sort of isolationist attitude, which has been hampering U.S. diplomacy."
A Prelude To Reform?
Williams says that Malloch Brown, who is British, has been largely regarded within the UN administration and among the Third World member states as pro-American.
"So I almost suspect [that] he did this calculated to disarm those critics so he can get through with the reforms," Williams said.
Malloch Brown, who regularly speaks at public forums keeping only brief notes, emphasized that for this speech in particular he prepared himself diligently.
"The speech was very, very carefully worked," Malloch Brown said. "I struggled with every word of it and some of you know that normally I may speak spontaneously from notes. But I felt this was something very important to say and to say now because we are in crisis."
Looking At The Budget
The crisis to which Malloch Brown refers is a budgetary one. In December 2005, largely on the U.S. insistence, the UN budget was approved for only six months instead of the usual two years. That budet expires at the end of this month.
Secretary-General Annan, for his part, said he is confident that there will be no crisis and that the budgetary limbo will be overcome before the deadline passes.
The Next UN Secretary-General?
The Next UN Secretary-General?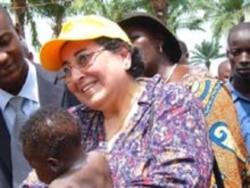 Thoraya Ahmed Obaid (courtesy photo)

The women's rights group Equality Now has noted that no woman has held the position of secretary-general of the United Nations in its 60-year history. While geographic regions take "turns" in nominating candidates, women have never had their "turn," despite many qualified candidates. Below -- in no particular order -- is a selection of some of the women that Equality Now has put forth as possible candidates for secretary-general.
SADAKO OGATA served as the United Nations High Commissioner for Refugees (UNHCR) from 1991 to 2000. Before her career as UNHCR, she was the independent expert of the United Nations Commission on Human Rights on the Human Rights Situation in Myanmar in 1990. In 1982-85, she was also representative of Japan on the United Nations Commission on Human Rights. Ogata has also been a prominent academic figure, serving as dean of the Faculty of Foreign Studies at Sophia University in Tokyo from 1989 until 1991. Prior to that she was director of the Institute of International Relations at the same university.
TARJA KAARINA HALONEN is the current and first female president of Finland. She is currently running for a second term. Halonen has a master of law degree from the University of Helsinki. She is a very popular politician and she was Finland's foreign minister from 1995 until 2000.
AUNG SAN SUU KYI is the 1991 winner of the Nobel Peace Prize. As a pro-democracy campaigner and leader of the opposition National League for Democracy party (NLD), she has spent most of the past 16 years in some form of detention under Burma's military regime. Born on 19 June 1945 to Burma's independence hero, Aung San, Suu Kyi was educated in Burma, India, and the United Kingdom. Her father was assassinated when she was 2 years old.
THORAYA AHMED OBAID is the executive director of the United Nations Population Fund (UNFPA), the world's largest multilateral source of population assistance. Obaid was appointed head of UNFPA on 1 January 2001 with the rank of undersecretary-general of the United Nations. She is the first Saudi Arabian to head a United Nations agency. Before joining UNFPA, Obaid was deputy executive secretary of the Economic and Social Commission for Western Asia (ESCWA) from 1993-98. In 1975, Obaid established the first women's development program in Western Asia.
GRO HARLEM BRUNDTLAND served three terms as prime minister of Norway in the 1980s and 1990s and was director general of the World Health Organization (WHO) in 1998–2003. In the 1980s, she gained international recognition by championing the principle of sustainable development as the chairwoman of the World Commission of Environment and Development (the Brundtland Commission).
(Compiled by RFE/RL; to see the complete list, click here.)