At Least 18 Killed In Five Iraq Car Bombings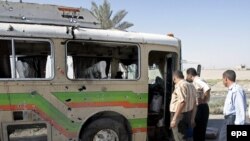 Six Oil Ministry workers were killed in Baghdad today when a roadside bomb exploded near their bus (epa) June 12, 2006 -- In the latest violence in Iraq, five car bombs detonated at various locations around the country, killing at least 18 people.
Two car bombs exploded in Baghdad today, killing at least nine people and wounding some 50 others.
In the town of Balat, north of the capital, at least five people died and some 30 others suffered injuries after two more car bombs detonated.
Four people were killed and some 40 wounded when a car bomb went off in the northern town of Tal Afar.
Meanwhile, the U.S. military says U.S. and Iraqi forces carried out 140 operations against suspected insurgents in the last 48 hours, killing 32 and detaining 178.
(compiled from agency reports)