"It happened abroad," says Martina, a 29-year-old trafficking victim from Zagreb. "I was sold for 3,500 euros [$4,400]. I was beaten, raped, forced against my will. They would put out cigarette butts on me and cut me with razors.
It was like a horror movie, she says. Martina was 19 years old at that time, trained as a cook. She lived in the suburbs of Zagreb and desired a better job and a better life. She met a young man who told her about his brother who had a restaurant in Italy, but who had a hard time finding good employees.
'It Sounded Rather Convincing'
"He told me that if I really wanted to work I could come with him, but that if I did not intend to pursue work there I could be back in Croatia in three days," Martina said. "It sounded rather convincing. Given that my life had been miserable since I was born -- my father was an alcoholic and my mother ill -- I went there without a second thought."
"As soon as I arrived and as soon as he brought me to his apartment, everything started. He told me there was no work and that I had crossed the border in order to work as a prostitute, that he had paid a ton of money for me and that he will come for me in three days, and that I had to be ready by then," she continued. "I told him to get his mother ready instead, and then he hit me on the head with his fist. Since we were in the kitchen I turned around and struck him with a pot. Naturally, I was no match for him physically. He beat and raped me constantly for three days, to the point where I was lying in blood and urine while tied to a bed. He then brought two of his friends who raped me, put out cigarette butts on me, and cut me with razors."
Martina was locked in a Rome apartment for two months. Instead of working in a restaurant, she was beaten and raped daily until she was "broken" and had become a sexual slave. Then, she says, the man who bought her took her out to the street.
Four Passports
"That man was from Bosnia," she said. "We found in his apartment four passports and another girl from Croatia who was also a mother of three. That was a complete horror. They beat me endlessly. A girl of 16 from Albania almost bled to death in my arms because they had pushed a car antenna into her vagina. A girl from Bosnia was found dead. That is when I completely broke down."
She said she had been completely dulled, as if separated from her own body. Even when there was a chance of escape she remained a prostitute.
"There was no way for me to be freed from what had happened to me," Martina said. "I endured this for six years. I went to the street with prostitutes, not in order to work, but to see the people who come to them and who force them to do this. Then I would throw a bottle of gasoline on their car or puncture their tires. I didn't care what would happen. I did one or three customers -- I didn't care. I didn't look at those people."
Martina was a typical, vulnerable young woman without steady employment or family support. Nobody wondered about her disappearance. After all, even her own father beat her from a very young age. Sadly, that experience prepared her for what she endured in Rome.
'That Is How I Distanced Myself'
"I rehearsed this since I was six," Martina said. "I recited 'The Pit,' a poem by Ivan Goran Kovacic, persistently to myself as my father beat me with roots from the vineyard or his military belt, as he would throw me against a wall or door, or kick me with his military boots. That was my defense. That is how I distanced myself. Although I would bleed, having been burnt all over with cigarette butts, I would distance myself from all that."
Today, Martina is 29 years old. She lives in Zagreb and has a 7-year-old son. She is still undergoing therapy.
'A Cup Of Coffee Saved My Life'
"I started to work on a regular job in Zagreb," she said. "However, since I'm not psychologically strong I break down very easily. The owner once pinched me on my behind. I hit him with a frying pan and called his wife. I left. But one cup of coffee saved my life. I was already looking out the window and thinking about jumping."
Martina was offered that cup of coffee by activists from the Center for Sexual Rights/Women's Room and the Center for Women Victims of War (ROSA). For the first time in her life, she says, somebody approached her without scorn.
"If it weren't for them, I don't know how our life would have continued, the life of all of us who were tortured, mistreated, sold in different ways," she said. "We can reach a particular point on our own, and when we cannot go any further we all need a ferry, a crossing, a helping hand, somebody's smile."
Marina entered a program of psychological help and therapy provided by the nongovernmental women's union. She works from time to time cleaning apartments for the elderly.
"Now I'm cleaning grannies' apartments," she said. "I drink coffee with them and call them my well of wisdom. With their help, you can go back and remember some of the good roots of life. My life currently consists of women from the center and my son."
No Forgetting
Still, Martina cannot forget what she endured.
"Even today, when I see gestures by some people, certain motions that remind me of that life, I immediately break down and want to jump at them," she said. "With the help of women from the center, I learned to control myself pretty well."
She claims the general public isn't even aware of the extent of trafficking in women in Croatia and the extent to which that business is blossoming, couched in legitimate activities.
"This business has been developed in Croatia precisely and efficiently," Martina said. "A woman with a university degree can end up in a miniskirt on the street just like a woman from the country. It doesn't matter whether it is a bar, a shop, an office, whatever. They keep their tentacled octopuses on every corner."
(translated by Naida Skrbic)
THE ORIGINAL REPORT: To read RFE/RL's South Slavic and Albanian Language Service's report in Croatian, click here.
UN Human Rights Council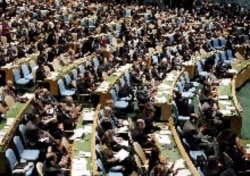 UN General Assembly delegates applaud the creation of the UN Human Rights Council on March 15, 2006 (epa)
A FRESH START ON HUMAN RIGHTS: The United Nations General Assembly on May 9 elected members to its new Human Rights Council, a step that reformers hope will help improve the United Nations' sullied record on defending human rights. The UN's old human rights watchdog -- the Commission on Human Rights -- had long been criticized for granting membership to countries with dismal human rights records, such as Cuba, Sudan and Zimbabwe.
Every member of the new body has to pledge to promote human rights. (more)
RELATED ARTICLES
General Assembly Votes To Create New Rights Council
Vote On Human Rights Council In Limbo Over U.S. Objections
At 60, UN Gripped By Debate on Human Rights Reform
SUBSCRIBE
For a regular review of civil-society developments throughout RFE/RL's broadcast region,
subscribe to "RFE/RL (Un)Civil Societies."