Ukraine's Orange Parties Restart Talks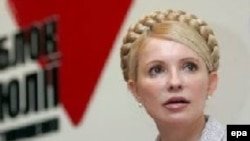 One key sticking point is reportedly Yuliya Tymoshenko's desire to prime minister again (file photo) (epa) June 16, 2006 -- Ukraine's former Orange Revolution allies have resumed talks on forming a governing coalition, in hopes of breaking a political stalemate since inconclusive parliamentary elections in March.
President Viktor Yushchenko's Our Ukraine bloc, the Socialist Party, and the bloc of former Prime Minister Yuliya Tymoshenko have been unable to agree on a coalition.
The pro-Russian Party of the Regions was the biggest vote winner in the elections. But the three Orange parties would control a simple parliamentary majority if they can join together.
Tymoshenko said today that her party has rejected a proposal by Our Ukraine
to join a broad coalition
-- including the Party of the Regions. Our Ukraine has denied making such a proposal.
Our Ukraine has said it was holding preliminary talks with the Party of the Regions. But Yushchenko said on June 15 that he will continue to support an Orange coalition, provided the three parties reach an agreement.
(Interfax-Ukraine, UNIAN)
BEHIND THE IMAGES: Click on the links below to read RFE/RL's profiles of some of the key players in Ukraine's March 26 legislative elections:

Click on the image for background and archived articles about Ukraine's March 26 elections.




Click on the image to see RFE/RL's coverage of the Ukrainian elections in Ukrainian.

Click on the image to view a photo gallery of some of the key players in the Ukrainian elections.