Our Ukraine Says Coalition Talks At Dead End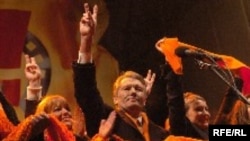 Yushchenko, Tymoshenko (right) in happier times (RFE/RL) June 12, 2006 -- Our Ukraine, the bloc of Ukrainian President Viktor Yushchenko, said today that talks to unite the former Orange Revolution allies to form a new governing coalition had no prospect of succeeding.
The talks between Our Ukraine, the bloc of former Prime Minister Yuliya Tymoshenko, and the Socialist Party
have been dragging on for weeks
after no party managed to win a majority in the March parliamentary elections.
They broke down over the weekend over the Socialists' insistence on getting the post of parliament speaker. Without the Socialists, the coalition would not control enough seats in parliament to govern.
Tymoshenko claimed Our Ukraine's refusal to concede the speaker's post was an excuse to quit the coalition talks and strike a deal with the pro-Russian Party of Regions, the biggest vote winner in the March elections.
("Ukrayinska pravda," AP)
RFE/RL Belarus, Ukraine, And Moldova Report

SUBSCRIBE For weekly news and analysis on Belarus, Ukraine, and Moldova by e-mail,
subscribe to "RFE/RL Belarus, Ukraine, And Moldova Report."