Iran To Host Security Conference On Iraq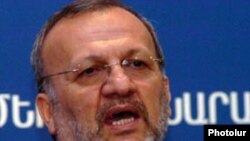 Iranian Foreign Minister Manuchehr Mottaki (file photo) (Photolur) June 17, 2006 -- Iran says it will host a major conference on security in Iraq next month.
Foreign Minister Manuchehr Mottaki said today the July 8-9 gathering in the Iranian capital would be attended by representatives from Iraq's neighboring states, Egypt, the Arab League, and the Organization of the Islamic Conference.
Mottaki made his remarks in Tehran at a news conference with visiting Iraqi Shi'ite leader Abd al-Aziz al-Hakim.