WASHINGTON, June 19, 2006 (RFE/RL) -- Deputy Foreign Minister Mehdi Mostafavi announced in early June that Iran's new ambassadors to the United Kingdom and France would take their posts soon. Ali Ahani -- whose most recent assignment is ambassador to Belgium and the European Union and who has previously served as ambassador to East Germany, France, and Italy -- is headed to Paris. Rasul Movahedian-Attar, who has served as ambassador to Portugal, will serve as Tehran's ambassador in London.

Their posts have been in limbo since observers warned of a looming purge of Iran's diplomatic corps by the new president, Ahmadinejad, months after he took office in August.

Ahmadinejad had embarked on a confrontational foreign policy path, and it appeared that he would select foreign representatives more in tune with his tougher approach -- particularly on the nuclear issue.

Cleaning House

The rapporteur of Iranian legislature's national security and foreign policy committee, Kazem Jalali, said at the time that the Foreign Ministry had submitted a list of 30-40 envoys who would be "removed, replaced, or whose tenure will come to an end" by March 21, 2006, according to ISNA.

Foreign Minister Manuchehr Mottaki confirmed that statement, adding that "some ambassadors have reached the retirement age or asked for early retirement" (Fars News Agency, November 2, 2005). At the same time, Mottaki denied that Iran's permanent representative at the United Nations in New York, Mohammad Javad Zarif, would be replaced.

The substitution of foreign envoys is not unusual for an incoming executive like Ahmadinejad. But complaints soon emerged over perceived delays in naming replacements.

In late January, a reformist daily, "Etemad-i Melli," on January 28 quoted anonymous sources who said the ambassadors to France, Germany, Italy, and the United Kingdom had been selected, as well as a new representative to the UN mission in Geneva. But the newspaper also argued that the new ambassadors selected by Ahmadinejad's fundamentalist government had neither the "experience, expertise, [nor] command enjoyed by their counterparts in the reform government [of Hojatoleslam Mohammad Khatami]." The paper conceded that they were not complete novices. It named Movahedian-Attar and Ahani among the planned appointments.

The paper added that Mohammad Mehdi Akhundzadeh, who most recently represented Iran at the International Atomic Energy Agency (IAEA) in Vienna and who previously served as ambassador to the United Kingdom and to Pakistan, would be sent to Paris. It predicted that Alireza Moayeri, who previously served as deputy foreign minister for research, would serve in Berlin.

Abolfazl Zohrevand, who served as the consul in Herat, would serve as ambassador in Rome, the reformist daily continued. While Zohrevand is a relatively junior figure, he reportedly is close to Mujtaba Hashemi-Samarei, one of the president's top advisers. The daily added that Zarif, the representative at the United Nations, is "facing enormous pressure to resign."

The selection of Ahani, Movahedian, and Zohrevand was confirmed in early February by another reformist daily, "Mardom Salari" reported on February 6.

Writing On The Wall

An official report in mid-April then announced that 60 of Iran's ambassadors would be replaced. The appointment of two specific diplomatic representatives was announced at that time. Ambassador to the IAEA Ali-Asghar Soltanieh would take over as the new Iranian representative at the UN office in Vienna, while Soltanieh would replace Mohammad Mehdi Akhundzadeh, who would serve as ambassador in Berlin, Mehr News Agency reported on April 16.

Foreign Ministry spokesman Hamid-Reza Assefi has said that the replacement of 60-70 ambassadors has been planned since Ahmadinejad took office, IRNA reported on April 18. He added that 120 ambassadors are replaced every three years -- or 40 ambassadors in an average year.

Some Iranians have been critical of the diplomatic housecleaning, arguing that mass personnel changes might weaken the country's diplomatic apparatus. Others have recommended waiting to see whether the replacements are truly qualified or mere political appointees, "Aftab-i Yazd" reported on April 18.

But legislator Suleiman Jafarzadeh hailed the changes as long overdue. He praised President Ahmadinejad's policies, and said that only ambassadors who believe in them wholeheartedly can act convincingly and effectively. Jafarzadeh suggested that "one of the reasons the Ahmadinejad government has not had a suitable image abroad is the failure by the ambassadors to adequately defend [Ahmadinejad's] image around the world." He called such a failure "a betrayal of Ahmadinejad."

The country's powerful hard-line Islamic Revolution Guards Corps (IRGC) has remained in the background during all this diplomatic bloodletting. But should the new ambassadors and the Foreign Ministry stumble, the IRGC is ready to fill the vacuum. The IRGC's public-relations chief, Seyyed Ahmad Mohieddin Morshedi, said in mid-May that the IRGC is well known internationally and is ready to participate in international relations, "Farhang-i Ashti" reported on May 17.
The spokesman explained that "the IRGC has military relations with many countries, and those who want to stand against tyranny in the world follow our model." He cited Hizballah as an example of a "purely Lebanese system," adding ominously that while the IRGC has "no direct part in it...our models significantly influence the revolutionary movements of Lebanon, Palestine, Iraq, and Afghanistan." The spokesman also said that while "the IRGC is not a meddler, it has a part to play in international diplomacy."
Avoiding International Isolation
Avoiding International Isolation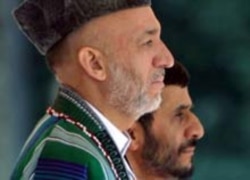 Afghan President Hamid Karzai (left) with Iranian President Mahmud Ahmadinejad in Tehran on May 27 (epa)
DIPLOMATIC OFFENSIVE:
As the United States and the European Union increase pressure on Iran regarding its nuclear program, Tehran has launched a wide-ranging and ambitious diplomatic offensive, including high-level state visits with countries including China, Indonesia, Afghanistan, Azerbaijan, and Pakistan. In May, Iranian President Mahmud Ahmadinejad participated in a high-profile
summit of the so-called Developing 8 (D8) group
of countries in Bali. Below are some links to RFE/RL's coverage of Iran's efforts to boost international support for its position.
Tehran's Shanghai Plans Seen As Bold Geopolitical Stroke
Nonaligned Movement Expresses Support For Iran
Afghan, Iranian Presidents Tout Strong Historical Ties
Iranian Foreign Minister In Pakistan For Energy Talks
Iranian Foreign Minister Visits Baghdad
ARCHIVE
To view all of RFE/RL's coverage of Iran, click here.

THE COMPLETE STORY: RFE/RL's complete coverage of controversy surrounding Iran's nuclear program.