Iraqi Asylum-Seekers Detained In Cyprus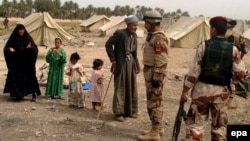 Many thousands of Iraqis have fled their homes, like these refugees in a camp near the city of Ba'qubah (file photo) (epa) June 20, 2006 -- Police in Cyprus have moved in to end a two-week protest by Iraqi asylum-seekers outside the U.S. Embassy in the island's capital, Nicosia.
Police detained 34 Iraqis and charged them with causing public disorder.
Police said the Iraqis had all arrived in Cyprus illegally and demanded political asylum, but have received no response to their applications. Some applied for asylum several years ago.
(AFP)