"On March 22, the number of the displaced was 3,400 families, with each family made up of seven to 11 people on average," Sa'id Isma'il Haqqi said. "Between March 22 and April 15, the number of the families [displaced] jumped to 9,900 nearing 10,000 families" (to read the complete interview,
click here
). If Haqqi's figures are correct, the number of people displaced now stands at about 89,000.
Both the UN and the Red Crescent maintain that the number could be far higher, as many families opt to seek shelter with relatives in different cities rather than in camps. Many of those who fled said they had lived in their homes for more than 20 years.
While the majority of those displaced appear to be residents of Baghdad, minority communities of Shi'ite and Sunni Arabs across the country have fled violence and threats. The surge in sectarian violence is a sufficient threat in and of itself, with dozens of Iraqis now turning up dead on the streets of Baghdad and other cities each week.
In addition, nearly 20,000 Iraqis have been kidnapped so far this year, including 4,959 women and 2,350 children, according to an April 19 report compiled by a group of 125 Iraqi NGOs in Karbala, theaustralian.news.com.au reported the same day.
Displacement Centers Set Up Across Iraq
According to an April 17 report by the UN's Integrated Regional Information Networks, Shi'ite Muslims displaced from the Sunni-majority Al-Anbar Governorate and Baghdad have sought refuge in the southern cities of Al-Najaf, Al-Nasiriyah, and Al-Basrah. Meanwhile, Sunni families have fled from Shi'ite strongholds in Baghdad and Al-Basrah for the Sunni-populated towns of Al-Fallujah, Al-Ramadi, and Al-Rawa.
More than 500 families are in a Red Crescent camp inside an abandoned factory in Al-Amarah, and 950 families are in another camp set up in an Al-Kut amusement park. The Red Crescent says it has provided the families with electricity, foodstuffs, cooking stoves, blankets, and beds.
Families interviewed by RFI over the past few weeks said they fled their homes after family members were killed, or after being warned to leave or be killed. One Shi'ite woman, who fled Baghdad's Abu Ghurayb district to the Diyala Governorate north of the capital, told RFI on April 19: "We have been beaten up and felt bad as [armed groups] started to kidnap the kids. This is why we have left." The woman, who was not identified by name, said her family was "expelled" from Baghdad.
Another woman, a widow with six children, told RFI that she too was expelled on sectarian grounds. Asked who was responsible for her expulsion, she said: "Well, I don't know. We don't have anything [against] Sunnis and Shi'a. We don't know from which sect this [threat] has come." The woman did not identify her own sect. The head of the Red Crescent Society in Diyala's Al-Miqdadiyah district told RFI that some 175 displaced families are registered, and new families continue to arrive seeking food rations and other support.
Earlier this month, gunmen in Al-Basrah distributed leaflets threatening to kill Sunni Arabs unless they left the city. City officials said that 12 Sunnis had been killed in sectarian attacks in the first week of April, RFI reported, while Waqf officials said that the number was closer to 40.
Campaigns of Intimidation
The tactics used by armed Sunni and Shi'ite groups are similar to campaigns by Sunni insurgents in Mosul in 2004 and 2005 to drive Kurdish residents from the city. Families received written notes warning them to leave, or awoke to find threats scribbled in graffiti on their homes. Others reported confrontations with armed gunmen.
In some cases the tactics have become more sophisticated. Some of the displaced said they had received threatening text messages and grisly videos filmed on mobile-phone cameras warning them to leave, the BBC reported on April 13.
One video purportedly showed a Sunni Arab man who had entered a Shi'ite-majority neighborhood in Baghdad being beaten and killed by men in black clothes. The video promised the same fate to any other Sunni who came to that neighborhood.
Iraqis are not the only ones suffering under the threat of intimidation and violence. Palestinian families who have lived in Iraq for decades have fled Baghdad under increasing threat by armed groups since 2003. In the past month, about 100 Palestinians have sought safe haven in Jordan after coming under threat, Human Rights Watch (HRW) reported on April 7. Jordan refused them entry, and they remain stranded on the Iraqi side of the border.
According to HRW, the situation of Palestinian refugees in Iraq has deteriorated significantly over the past year. Ten Palestinians were murdered in late February. In March, fliers were distributed in a Baghdad neighborhood anonymously warning some 35 Palestinian families to leave their houses by April 2, one refugee told HRW.
Iraqis say that Sunnis and Shi'a lived together in harmony until Saddam Hussein built a regime that favored one sectarian identity over another. Today, that harmony seems all but a mirage hijacked through retribution attacks by both victor and vanquished.
While the average Iraqi on the street may hold no ill will against his neighbor, it is becoming increasingly difficult to ignore the campaigns of violence carried out against Sunnis and Shi'a, which grow more brutal by the day.
The longer it takes to bring the security situation under control, the more difficult it will be to reverse the ethnic cleansing of mixed communities that is now taking place across Iraq. Should armed groups achieve their goal, the result will be more than just notations on a map; it will also be a cultural and linguistic loss and, in the end, a loss of Iraqi identity.
Sectarian Iraq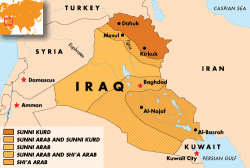 Click to enlarge the image.
SUNNI, SHI'A: Iraq is riven along sectarian lines, faults that frequently produce violent clashes and are a constant source of tension. Sectarian concerns drive much of Iraqi politics and are the main threat to the country's fragile security environment.


THE COMPLETE PICTURE: Click on the image to view RFE/RL's complete coverage of events in Iraq and that country's ongoing transition.