The dead included the brother of prominent Sunni politician Saleh al-Mutlak.
No further progress was reported in the stalemate on forming a government of national unity. Talks among Sunni, Shi'ite, and Kurdish politicians continue.
Meanwhile, the trial of deposed Iraqi President Saddam Hussein resumed today but was adjourned until April 19 to allow the prosecution more time to verify documents.
The former Iraqi dictator and seven co-defendants are on trial for the deaths of 148 Shi'a following a 1982 assassination attempt on Hussein in the town of Al-Dujayl.
During today's hearing, handwriting experts confirmed Hussein's signature on documents authorizing the crackdown on Shi'a from Al-Dujayl. Hussein's lawyer rejected the findings.
(compiled from agency reports)
Deputies Speak Out Against Al-Ja'fari Bid
Deputies Speak Out Against Al-Ja'fari Bid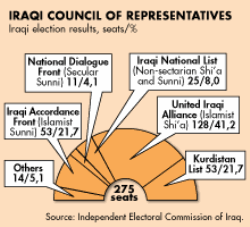 LOOKING FOR A NEW FACE: Two Iraqi parliament deputies on April 2 told RFE/RL's Radio Free Iraq (RFI) that they do not support the nomination of Prime Minister Ibrahim al-Ja'fari to retain his post. Disagreement over the nomination, among other things, has prevented Iraq from forming a government in the wake of legislative elections in December 2005.
"Our Kurdish friends and our friends in the Iraqi Accordance Front have insisted in new messages they sent three days ago on a refusal to deal with the nominee of the United Iraqi Alliance [al-Ja'fari]," said QASIM DAWUD, a parliamentary deputy and a member of the independent bloc within the United Iraqi Alliance. "But I must clearly say that I represent a very broad stream within the alliance that supports a policy [of choosing a nominee other than al-Ja'fari]...." (more)


THE COMPLETE PICTURE: Click on the icon for RFE/RL's complete coverage of events in Iraq and that country's ongoing transition.