The statement comes as U.S. President George W. Bush attended a summit with EU leaders in Vienna. During a news conference after the summit, Bush and Austrian Chancellor Wolfgang Schuessel were asked about Ahmadinejad's timing, as well as a variety of other subjects.
Time To Talk Is Now
Bush said Ahmadinejad appears to be trying to draw out the crisis over Iran's nuclear program by waiting as much as two more months before responding to the offer.
Now is the right moment to take this offer, to grab it and to negotiate." -- Schuessel

On June 6, the five permanent members of the UN Security Council -- Great Britain, China, France, Russia and the United States -- plus Germany presented several incentives to Iran if it suspends uranium enrichment.
One of those incentives, long requested by Tehran, would be for Washington to take part directly in the negotiations with Iran, but only if the UN's International Atomic Energy Agency (IAEA) first verifies that Iran has suspended enrichment.
Bush said he expects Iran will make the right decision when he sees the unity among the states asking it to halt uranium enrichment. "It is very important for the leadership in Iran to look at the world and say, 'Europe and the United States and Russia and China are united in [the] common desire to make sure that the Iranians do not develop a nuclear weapon,'" he added.
But Bush reminded his audience that his administration has repeatedly said the six countries making the offer expect a response "within weeks, not months."
Schuessel agreed. He said Iran needs to make what he called "the right choice," and to do so promptly. "Now is the right moment to take this offer, to grab it and to negotiate," he said.
European Concerns On Guantanamo, CIA Flights
The summit leaders also discussed European concerns about the more than 450 prisoners that the United States is holding at Guantanamo Bay, Cuba, and reports that the U.S. Central Intelligence Agency (CIA) has used secret prisons in Europe for suspected terrorists.
Schuessel said these matters were discussed during the meeting, and he praised Bush for raising the subject and not waiting for others to do so.
For his part, Bush said he understood the Europeans' concerns, especially about Guantanamo. Several prominent Europeans have called for it to be shut down altogether.
Bush said he would like to close the detention facility, but said many of those being held there are too dangerous to be released and must be brought to justice in U.S. courts., adding that he "shared with them my deep desire to end this program, but also, I assured them that we are not going to let people out on the street that will do you harm."
U.S. Threat To The World?
Bush and Schuessel also were asked about a recent American poll conducted around the world that found a majority of Europeans believe that, because of the Iraq war, the United States is a greater threat to world peace than Iran or North Korea with their suspected nuclear-weapons programs.
Bush dismissed such an attitude, saying it "was absurd for people to think that we are more dangerous than Iran. We are a transparent democracy, people know exactly what is on our mind, we debate things in the open."
"It is grotesque to say that America is a threat to the peace in the world compared with North Korea, Iran, or other countries," Schuessel added.
Bush acknowledged deep divisions between the United States and its European allies at the start of the Iraq war, but he stressed that the two sides never failed to cooperate, and he said they have put their differences behind them.
He also thanked Europe for its help in efforts to bring democracy to both Iraq and Afghanistan.
For his part, Schuessel said Europeans owe a great debt of gratitude to the United States for its efforts to rebuild the continent -- even former enemy countries -- after World War II. He said such a country cannot be seen as a threat to peace.
Evidently, not all Europeans share Schuessel's attitude. Hundreds of students held a boisterous but peaceful rally in Vienna to protest Bush's visit. Some banners accused the U.S. leader of being the "World's No. 1 Terrorist."
Avoiding International Isolation
Avoiding International Isolation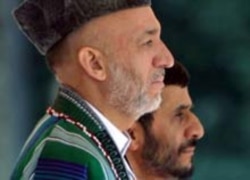 Afghan President Hamid Karzai (left) with Iranian President Mahmud Ahmadinejad in Tehran on May 27 (epa)
DIPLOMATIC OFFENSIVE:
As the United States and the European Union increase pressure on Iran regarding its nuclear program, Tehran has launched a wide-ranging and ambitious diplomatic offensive, including high-level state visits with countries including China, Indonesia, Afghanistan, Azerbaijan, and Pakistan. In May, Iranian President Mahmud Ahmadinejad participated in a high-profile
summit of the so-called Developing 8 (D8) group
of countries in Bali. Below are some links to RFE/RL's coverage of Iran's efforts to boost international support for its position.
Tehran's Shanghai Plans Seen As Bold Geopolitical Stroke
Nonaligned Movement Expresses Support For Iran
Afghan, Iranian Presidents Tout Strong Historical Ties
Iranian Foreign Minister In Pakistan For Energy Talks
Iranian Foreign Minister Visits Baghdad
ARCHIVE
To view all of RFE/RL's coverage of Iran, click here.

THE COMPLETE STORY: RFE/RL's complete coverage of controversy surrounding Iran's nuclear program.