The United States has accused Iran in the past of interfering in Iraq. But General Casey's comments are seen as some of Washington's most outspoken criticisms yet.
'Fourth Element'
At a Pentagon briefing on June 22, Casey called Iran one of the factors that he said were making Iraq's security situation increasingly complex. "The fourth element that I'd suggest to you [that] adds complexity to the security situation is Iran," he said.
"We are quite confident that the Iranians, through their covert special operations forces, are providing weapons, IED [improvised-explosive-device] technology and training to Shi'a extremist groups in Iraq, the training being conducted in Iran and in some cases probably in Lebanon, through their surrogates," Casey added. "They are using surrogates to conduct terrorist operations in Iraq, both against us and against the Iraqi people. It's decidedly unhelpful."
Casey said the problem had gotten worse since January. There had been an upsurge since then, he said, in Iran's support for extremist groups across southern Iraq.
"I have no evidence that there are Iranians in Iraq that are actually directing attacks," he said, but added that they are allowing others to "operate as their surrogates."
And he said elements in the Iranian government were likely aware of, and possibly part of, such activities.
"What we see, though, is that [Iran's] Quds Force [a brigade of the Revolutionary Guards], their covert special operations forces, are the ones that are directing this," Casey said. "Now, you would assume that they're not doing this independently, that there is some central direction from somebody in Tehran."
Iran 'Not In The Dark'
The United States has repeatedly accused elements in Iran's security services of arming insurgent groups in Iraq. Iran is thought to have great influence with Shi'ite radical cleric Muqtada al-Sadr and his Imam Al-Madhi Army militia.
So, has Washington communicated its concerns to the Iranian government? That was a question put to U.S. Secretary of Defense Donald Rumsfeld, who was at the same briefing as Casey.
Rumsfeld said that was for the State Department to comment on. But then he added: "Clearly I've said [my concerns] publicly, General Casey has said so publicly. They [Iran] are not in the dark about the extent to which we are aware of what they are doing, which is notably unhelpful and causing the death of Americans."
But direct talks to discuss Washington's concerns appear unlikely.
Earlier this year, the United States authorized its ambassador to Iraq, Zalmay Khalilzad, to meet with Iranian officials to discuss Iraq. Tehran initially said it was willing to talk, but then said such discussions would be of no use.
(compiled from agency reports)
Iraq And Iran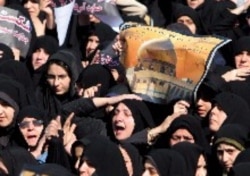 Iranian Shi'a protesting the Golden Mosque Bombing in Iraq on February 24


WHAT IS GOING ON? On March 8, RFE/RL's Washington office hosted a roundtable discussion on relations between Iraq and Iran. Although most analysts agree that Iran has been actively involved in Iraq since the U.S.-led military operation to oust former Iraqi President Saddam Hussein, they continue to debate the nature, extent, and intent of that involvement.
The RFE/RL briefing featured WAYNE WHITE, former deputy director of the U.S. State Department Bureau of Intelligence and Research's Office of Analysis for the Near East and South Asia, and A. WILLIAM SAMII, RFE/RL's regional analyst for Iran and editor of the "RFE/RL Iran Report."
LISTEN
Listen to the complete RFE/RL briefing (about 75 minutes):

Real Audio
Windows Media
RELATED ARTICLES
Iran/Iraq: Bilateral Ties Improving Despite U.S. Worries
Renewed Speculation About Tehran And Instability In Iraq
Iran/Iraq: Neighbors Mending Ties, But Outstanding Issues Remain
ARCHIVE
RFE/RL's
coverage of Iran
. RFE/RL's
coverage of Iraq
.