RFE/RL:
Who are your patients? What countries do they come from?
Dorrit Ree Iversen:
It's been an interesting evolvement of our patient group, because when the center was first established in the beginning of the 1980s, it very much catered -- so to speak -- to people coming from South America, from Argentina, from Chile. [We received] a lot of the people who were escaping military dictatorship in those countries.
And today we see that this has shifted quite a bit. Many of our torture survivors come from Iraq, countries in the Middle East, Afghanistan, Iran. We have a few coming from the former Yugoslavia and Africa. But it's mainly from the Middle Eastern countries.
RFE/RL:
Torture comes in many forms. In your experience, which wounds are harder to treat: the physical injuries or the psychological ones?
Iversen:
Many of the survivors that come to the center have actually been in Copenhagen, in Denmark, for many years and have been leading quite normal lives, have been coping with the effects of torture on their own. And many of them have then maybe experienced some kind of flashback situation that brings back all the memories from the torture, so at that point, one could say that the mental treatment becomes a bit more important because it might have been a long time since the physical torture and those problems might have healed themselves -- at the least the ones that we can see.
RFE/RL:
What kind of treatment do you offer patients?
Iversen:
We have both individual treatment and group treatment and family therapy as well. And when the survivors are referred to the rehabilitation center, there is an assessment made to find out whether they are eligible for the treatment. And then we assess how the treatment can best be planned for each individual client. So that is how it is then determined whether to start the individual treatment or the group treatment. And within each of these treatment sessions, there are four people to assigned to each person -- a social worker, a doctor, a physiotherapist, and a psychiatrist. So they are part of the team that is then connected to each person.
RFE/RL:
Does the need to communicate in many different languages present unique challenges to your staff?
Iversen:
Yes, very much. And we operate with translators, obviously. And with this group treatment, we try to group people together [who speak a common language.] Right now we have a group of Arabic-speaking men, for instance and we are going to be starting an Iranian group as well, a Farsi [Persian] group. So in that sense, we try to group them.
And we have interpreters. We have one interpreter that is permanently working for the [Rehabilitation and Research Center For Torture] and we have a big group of translators that go through a very extensive process to be allowed to work here -- obviously to make sure that they don't have [any] kind of ties to any elements in their own countries that will affect the treatment. So it's a very long process to get the right group of translators because that is a very important part of the treatment.
RFE/RL:
Do cultural factors also present special challenges, especially when you are dealing with people who have endured such trauma?
Iversen:
People that work here have been working for many, many years and have developed a very intuitive way of knowing how to treat these people and have a knowledge of the cultural differences and how in some cultures it's very difficult for men to speak about their feelings -- even more, perhaps, than in Western culture. And in other places it's more of a physical way [that is used] to express your feelings, so that's something that factors in very much to the treatment.
RFE/RL:
In the wake of 9/11 [the terrorist attacks of September 11, 2001] there has been growing debate, especially in the United States, on what constitutes torture and whether it can ever be justified. The administration of President George W. Bush has been criticized internationally over the way it runs [the detention center in] Guantanamo [Bay, Cuba] as well as its policy of rendering terror suspects to countries where torture is practiced by security forces. Do you feel the world has taken a step backward in the fight to eradicate torture?
Iversen:
Obviously, what we have seen after 9/11 has been somewhat of a blow to the campaign against torture. With the consent of the different countries that existed before, that everybody was working for the prohibition of torture, there was a general agreement about what is torture and how we define torture. That has become a bit more difficult now.
But we are hoping that there's still some pressure on the movement and there are still many countries that are very interested -- and I think Denmark is one of those countries -- in keeping the issue of torture on the international agenda. And we are hopeful. We still see some positive signs.
RFE/RL:
Some intelligence and military officials, as well as politicians in the United States, argue that harsh interrogation techniques used on terror suspects are necessary and do not constitute torture. Others disagree and have fought to have such methods banned. In your opinion, is it hard or easy to determine what torture is? Should we revise our definitions in the wake of 9/11?
Iversen:
The [UN] Convention Against Torture, which was passed in 1984 and entered into force in 1986 -- that was the time when the countries agreed upon a set definition of what torture is. Today, we have 141 countries that have ratified the convention and who have agreed that this is a definition that we all adhere to and try to work for.
So if you look at it in that sense, then it's not so difficult. But obviously there are issues within the definition that can make it more difficult to determine whether or not something is torture. But in the end, organizations like my own, we have to work with the notion that we have a definition that we agree upon. And in the Convention Against Torture, it says that nothing can validate committing torture. So that is the goal that we are working for. And if we start somehow to derogate from that definition, then it's a slippery slope that really never ends.
UN Human Rights Council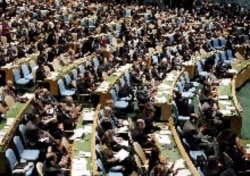 UN General Assembly delegates applaud the creation of the UN Human Rights Council on March 15, 2006 (epa)
A FRESH START ON HUMAN RIGHTS: The United Nations General Assembly on May 9 elected members to its new Human Rights Council, a step that reformers hope will help improve the United Nations' sullied record on defending human rights. The UN's old human rights watchdog -- the Commission on Human Rights -- had long been criticized for granting membership to countries with dismal human rights records, such as Cuba, Sudan and Zimbabwe.
Every member of the new body has to pledge to promote human rights. (more)
RELATED ARTICLES
General Assembly Votes To Create New Rights Council
Vote On Human Rights Council In Limbo Over U.S. Objections
At 60, UN Gripped By Debate on Human Rights Reform
SUBSCRIBE
For a regular review of civil-society developments throughout RFE/RL's broadcast region,
subscribe to "RFE/RL (Un)Civil Societies."