U.S. Indicts Seven On Terrorism Charges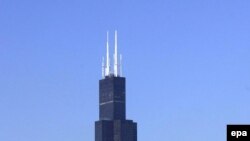 The Sears Tower in Chicago (epa) June 23, 2006 -- Seven men have been arrested and indicted on charges of conspiring with Al-Qaeda to commit terrorist acts in the United States.
According to a federal indictment made public on June 23, the seven men -- five U.S. citizens, a Haitian, and one other foreigner -- were plotting attacks on the 110-floor Sears Tower building in Chicago and government offices in Miami. The seven were arrested in Miami on June 22.
The indictment alleges that the men contacted Al-Qaeda operatives, asking them for money, machine guns, radios, vehicles and cash to carry out their plot.
(Reuters, AP)