PRAGUE, June 24, 2006 (RFE/RL) -- President Ahmadinejad came to power on a populist platform that promised to serve Iranians and improve their lives. He talked of putting the country's oil wealth "on their tables," and vowed to fight corruption and pursue a path of moderation.
Populist Beginnings
Ahmadinejad also promised the electorate a "government of 70 million."
"Without a doubt, the government emerging from the will of the people will be a government of affection and moderation -- a government of friendship, a government of tolerance," Ahmadinejad said shortly after taking office. "The government will serve all the Iranian people."
The energetic Ahmadinejad has spent much of his time inside the country touring Iran's provinces, frequently with talk of economic sweeteners.
Unlike his reformist predecessor, Hojatoleslam Mohammad Khatami, who spoke of "rule of law" and "civil society," Ahmadinejad speaks in terms that can be grasped quickly.
"God willing, in addition to expanding the university, a scientific department will also be created here," Ahmadinejad told a crowd in Khorasan Province in April. "Let me also add something else about the youth: In the government meeting, [we will decide] about two new sports center for your city -- first for girls, then for boys. I also love all of you."
Popularity Rising?
While it is tricky to track public opinion in Iran reliably, some observers think Ahmadinejad's popularity is increasing among the broader public -- particularly those who regard him as one of their own.
His defiance toward the West and his appeals to nationalism probably contribute to his popularity as well.
Sadegh Zibakalam, a professor of political science at Tehran University, however, believes many voters are still waiting for Ahmadinejad to fulfill his promises.
Zibakalam cites growing concern over the perceived absence of a long-term economic plan to tackle problems like inflation and unemployment.
"So far, unfortunately, not only has there not been any concrete or serious results, but in the first three months of the Iranian year we've faced an unprecedented rate of inflation," Zibakalam says. "What's really causing concern is that apart from nice talk and beautiful slogans, it seems that in practice Ahmadinejad's government does not have a concrete and well-designed plan."
Economic Program Criticized
Last week, a group of 50 prominent Iranian economists publicly criticized Ahmadinejad policies for "lacking a scientific and expert basis." They argued that current policies will lead to more poverty, economic slowdown, and further brain drain.
They also warned that more of the same could reduce trust in the government.
Zibakalam claims that Ahmadinejad's government is reversing a trend toward economic liberalization and free markets.
"We are witnessing tighter government control over the economy," Zibakalam says. "This will lead to accelerated capital flight and also to a deterrence of the very little foreign investment that has existed to date."
The Rise Of The Neo-Conservatives
Ahmadinejad has also been criticized for increasing the influence of the hard-line Islamic Revolution Guard Corps (IRGC) on the political scene -- and replacing senior managers with relatively inexperienced ideological allies.
"A new group of conservatives that we call the neo-conservatives have come to power," says Hossein Bastani, editor of the online "Rooz" daily. "They are usually second-generation conservative managers who in the past 27 years have been in middle management or lower posts. They have been involved in military bodies. Because of their lack of experience in top management, many slogans and ideals that have proven impractical [in the minds of] conservatives still seem attainable for them -- like a state-controlled economy."
Some in Iran's power structure have criticized Ahmadinejad for official purges and a confrontational approach to politics.
The influential former President Ali-Akbar Hashemi-Rafsanjani and the former head of Iran's Supreme National Security Council, Hojatoleslam Hassan Rohani, are among those critics.
Bastani says there is a growing rift among conservatives who, since Ahmadinejad's election, have gained control of all of Iran's levers of power.
"In a very short time, [Ahmadinejad] has created an unprecedented rift among the conservatives," Bastani says. "And, in fact, although he came to power promising to bring unity to the establishment, he has in fact been unable to fulfill that [promise], like his other promises. It seems that the international crisis over Iran's nuclear program is now holding the establishment together, so all the disputes have been postponed until after the [nuclear] crisis is resolved."
Civil Society Under Assault
There are other developments that are causing serious concern among intellectuals and human rights activists.
Mohammad Ali Dadkhah, a co-founder of the Tehran-based Center of Human Rights Defenders, tells RFE/RL that Iran's political atmosphere is becoming increasingly "tightly knit." He also says the human rights situation is deteriorating.
"We have gone backward, and we have lost the progress that was achieved under Khatami and the new hope," Dadkhah says. "We see that NGOs do not enjoy the freedom they had -- gatherings are facing new judiciary action, and journalists are facing new [pressures]. Another disastrous implication is that political views have cast a shadow on cultural matters."
There are also reports of growing pressure on universities -- including the summoning and expulsion of student activists.
Last month's arrest of a leading philosopher and scholar, Ramin Jahanbegloo, has added to concerns over academic freedoms.
But for most poor Iranians, the No. 1 priority remains how to deal with problems like poverty and unemployment.
Many observers suggest that Ahmadinejad has given them hope, and increased their expectations of a better future. But he still faces the task of fulfilling those expectations.
What The Street Thinks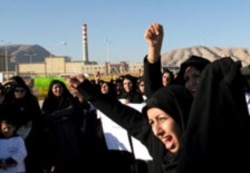 A demonstration in support of Iran's nuclear program outside the Isfahan uranium-conversion facility in Isfahan in January (epa)

IRANIANS SPEAK OUT ON THE DISPUTE: To find out more about what Iranians think about the international controversy over their country's nuclear program, RADIO FARDA asked listeners to express their views....(more)
See also:
Iran: Public Has Mixed Feelings On Nuclear Issue

THE COMPLETE PICTURE: RFE/RL's complete coverage of controversy surrounding Iran's nuclear program.
CHRONOLOGY
An annotated timeline of Iran's nuclear program.