Mottaki also reiterated his country's view that any further talks should be without preconditions.
Steinmeier said the two sides "are at a decisive phase." He said after the meeting with Mottaki that Iran must stop uranium enrichment "very quickly."
Steinmeier added that either the nuclear standoff will continue or the parties will seize the chance to a comprehensive deal based on cooperation.
The international community is hoping to get a specific answer from Iran on when it will respond to incentives meant to persuade Tehran to give up its uranium-enrichment program.
Germany is among the countries that back package designed to end the standoff over Iran's nuclear program. All five permanent members of the UN Security Council have also endorsed the package.
The United States and some of its allies are concerned that Iran is trying to develop nuclear weapons. Tehran denies this.
(AP, Reuters)
Security Guarantees For Iran?
Security Guarantees For Iran?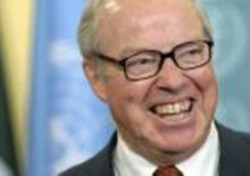 Hans Blix (CTK)

SECURITY GUARANTEES On January 26, RFE/RL Radio Farda correspondent Fatemeh Aman spoke with former UN chief weapons inspector HANS BLIX about the confrontation between Iran and the international community over Tehran's nuclear ambitions. Blix urged the United States to participate in direct negotiations with Tehran and to offer Iran security guarantees that are similar to those being discussed with North Korea...(more)
LISTEN
Listen to the complete interview (about five minutes):

Real Audio
Windows Media

THE COMPLETE STORY: RFE/RL's complete coverage of controversy surrounding Iran's nuclear program.