Furthermore, there are questions about when Iran will respond. Although the international community is encouraging Iran to act soon, Tehran does not seem to be in a hurry, saying it wants to examine the proposal closely. Iranian officials will not want to be perceived as submitting to pressure.
'No Preconditions'
Nevertheless, the Iranian side says it is willing to begin talks immediately, if there are no preconditions. Engaging in unstructured discussions could be unproductive and could amount to an Iranian delaying tactic.
The pressure on Tehran kicked off with U.S. President George W. Bush's June 19 commencement address at the United States Merchant Marine Academy in Kings Point, New York, Radio Farda reported. Bush expressed the hope that Iran will suspend uranium enrichment and commence negotiations with the United States and other countries. He described the international proposal submitted to Tehran in early June as an "historic opportunity."
The next day, Radio Farda quoted anonymous European diplomats as saying Iran faces a June 29 deadline for responding to the proposal. The alleged deadline was conveyed to the Iranian government by Solana when he visited Tehran in early June, according to Radio Farda. June 29 is significant because it is when G8 foreign ministers are scheduled to meet in Moscow ahead of the G8 summit in St. Petersburg in July.
Iranian Foreign Minister Manuchehr Mottaki denied in Baku on June 20 that Iran is facing a deadline and suggested that international negotiations get under way.
"Some kind of negotiation can start even before [Iran gives] a final answer," Mottaki said, according to Radio Farda. "I mean, there can be some questions and some doubts that need clarification, and that is why starting negotiations between Iran and the other parties, of course without any preconditions, can help all the parties come together more closely."
Ahmadinejad Announces A Deadline
Iranian President Mahmud Ahmadinejad announced a seemingly self-imposed deadline during a speech in the western Iranian city of Hamedan on June 21, Radio Farda and Iranian state television reported.
"We have said many times that we are in favor of dialogue and negotiations," Ahmadinejad said. "We will announce our views on the proposals toward the end of Mordad [the Iranian month ending 22 August]. We support talks but they must be on equal and just terms."
Speaking at a press conference in Vienna on June 21, Bush sounded impatient and said Tehran should hurry up and accept the international community's proposal on its nuclear program, "The Washington Post" reported.
U.S., Others Turn Up The Pressure
"It shouldn't take the Iranians that long to analyze what is a reasonable deal," Bush said. "Our position is we'll come to the table when they verifiably suspend. Period."
Yet it is not just the United States that is eager for an Iranian response. Other country's leaders voiced similar views. Austrian Chancellor Wolfgang Schuessel said on June 21 that Iran "should not play with time," "The Washington Post" reported.
French Foreign Ministry spokesman Jean-Baptiste Mattei said on June 22 that Iran should make a decision soon on the nuclear proposal, AFP reported.
"In our minds, it's a question of weeks, not months," Mattei said. "The offer from the six [China, France, Germany, Russia, the United Kingdom, and the United States] to Iran is a good proposal. We urge Iran to give a positive reply."
Chinese Foreign Ministry spokeswoman Jiang Yu expressed a similar view on June 22, Xinhua reported.
"We hope Iran would be highly attentive to the concerns of the international community, take a positive attitude, and make a formal response to the package proposal at an early date," she said. Jiang also called for the other parties to be patient.
UN Secretary-General Kofi Annan met with Mottaki in Geneva on June 22 and said at a joint news conference afterward that he hopes Iran decides on the international proposal soon, Radio Farda reported.
"I believe [Iran] is considering this offer very seriously, as I have urged it to do, and I hope it will give its official answer before too long," Annan said.
He noted Iran's insistence that its nuclear program is peaceful, and he stressed the importance of convincing other countries of this by cooperating fully with the International Atomic Energy Agency.
Delaying Tactic?
The official Islamic Republic News Agency (IRNA) quoted Mottaki as saying at the same news conference that Tehran is studying the proposal closely and would welcome talks about it "without preconditions."
Western diplomats who have negotiated with the Iranian government warn that such talks could be a painful and ultimately unproductive process. Some of the tactics the Iranians have reportedly employed in the past include playing up factional differences in their own governing apparatus and trying to play up differences among their interlocutors to create splits between them. These diplomats also assert that the Iranians might negotiate the terms of an agreement, and then either seek new negotiations on the implementation of that agreement or simply ignore it altogether.
Mottaki stressed during a June 24 visit to Germany that no deadline was mentioned when he spoke with Solana earlier this month, Iranian state television reported. Mottaki said a decision would not be forthcoming before the G8 foreign ministers meeting in Moscow.
Talking Technical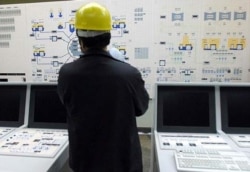 A control panel at the Bushehr nuclear power plant (Fars)

CASCADES AND CENTRIFUGES: Experts and pundits alike continue to debate the goals and status of Iran's nuclear program. It remains unclear whether the program is, as Tehran insists, a purely peaceful enegy project or, as the United States claims, part of an effort to acquire nuclear weapons.
On June 7, 2006, RFE/RL correspondent Charles Recknagel spoke with nuclear expert Shannon Kile of the Stockholm International Peace Research Institute in Sweden to help sort through some of the technical issues involved. "[Natanz] will be quite a large plant," Kile said. "There will be about 50,000 centrifuges and how much enriched uranium that can produce [is] hard to say because the efficiency of the centrifuges is not really known yet. But it would clearly be enough to be able to produce enough [highly-enriched uranium] for a nuclear weapon in fairly short order, if that's the route that they chose to go...." (more)
RELATED ARTICLES
Tehran Says It Is Working On Advanced Nuclear Fusion
Would Light-Water Reactor Suit Tehran's Needs?
Satellite Images Raise Questions About Iran's Nuclear Program
Centrifuges And Political Spin?
How Close Is Iran To Getting Nuclear Bomb?
Iran: The Worst-Case Scenarios

THE COMPLETE STORY: RFE/RL's complete coverage of controversy surrounding Iran's nuclear program.