Amr Musa says the plan is an opportunity to begin "real and comprehensive" dialogue between all Iraqi political groups in order to realize security and stability.
He also expressed the hope it will help to speed up the process or building up the Iraqi forces to a point where they are able to assume security responsibilities currently handled by foreign troops.
Members of parliament are this week expected to start debating the details of the plan, which was presented by Prime Minister Nuri al-Maliki on June 25.
Al-Maliki offered an "olive branch" to all those prepared to enter the political process and to take part in rebuilding Iraq.
Al-Maliki said his plan proposes an amnesty for insurgents who did not take part in criminal or terrorist crimes. He vowed that those guilty of killing and terrorism would be brought to justice.
Al-Maliki's proposal offered no timetable for a withdrawal of U.S. troops and the takeover of security duties by Iraqi forces.
The U.S. ambassador to Iraq, Zalmay Khalilzad, welcomed the initiative and urged insurgents to lay down their arms and join the democratic process.
(AFP)
Nuri al-Maliki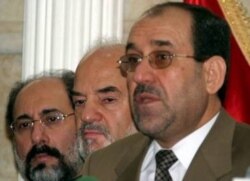 Nuri al-Maliki (epa)

NURI KAMIL AL-MALIKI (Jawad al-Maliki is a nom de guerre) was born in 1950 in the Twayrij al-Hindiyah district of Karbala.
Commonly known as Abu Isra, al-Maliki joined the Islamic Al-Da'wah Party in 1968.
He holds an M.A. in Koran and Arabic Language Studies from Salah al-Din University in Irbil.
Following a crackdown on outlawed parties by the regime of Saddam Hussien, al-Maliki fled the country in 1980, seeking asylum first in Iran and later in Syria.
While in Syria, he also published a magazine -- "Al-Mawqif" ("The Attitude") -- that became the mouthpiece of the Islamic Al-Da'wah Party.
For several years, al-Maliki served as the head of jihad and military operations for the party, subsequently becoming a member of its political bureau.
Following the liberation of Iraq, he served as deputy director of the de-Ba'athification commission established by the Coalition Provisional Authority.
In 2004, al-Maliki was elected deputy speaker of the interim National Assembly.
He played a leading role in settling the August 2004 crisis in Al-Najaf when supporters of Shi'ite cleric Muqtada al-Sadr battled coalition forces for three weeks.
In 2005, he served as chairman of the transitional National Assembly's Security and Defense Committee. He was also a member of the committe responsible for drafting Iraq's new constitution.
He has also served as a spokesman for transitional Prime Minister Ibrahim al-Ja'fari and as spokesman for the United Iraqi Alliance.
More about al-Maliki:
Premier-Designate Promises Tough Approach
Tough Challenges Face New Prime Minister


THE COMPLETE PICTURE: Click on the image to view RFE/RL's complete coverage of events in Iraq and that country's ongoing transition.