In a letter sent to RFE/RL, the wife of Gabdurafih Temirbaev, Bakhtygul Omanova, said three men purporting to be Kazakh security officers broke into her house in the middle of the night on June 24 and took her husband away.
They told her he was suspected of robbery.
Omanova says the United Nations High Commission for Refugees (UNHCR), which granted her husband refugee status on June 16, is seeking an explanation from Kazakh authorities.
Cesar Dubon, the acting chief of the UNHCR mission in Kazakhstan, told RFE/RL's Kazakh Service he was awaiting a final statement from the Kazakh Foreign Ministry on this case.
Meanwhile, Almaty police denied being responsible for Temirbaev's arrest, saying they had "absolutely no information" about the case. A spokesman for the Interior Ministry's municipal branch, Arman Zhusanbai, hinted at the possible involvement of Uzbekistan's secret services, suggesting "maybe" it was Temirbaev's country -- Uzbekistan -- that took him away.
Hundreds of civilians fled Andijon last year after the Uzbek authorities brutally quelled what they describe as an armed Islamic uprising. Most went to Kyrgyzstan. Hundreds were then flown to Eastern Europe after obtaining UN refugee status.
At least four Andijon refugees remain in Kyrgyz custody and face possible extradition to Uzbekistan.
Andijon Refugees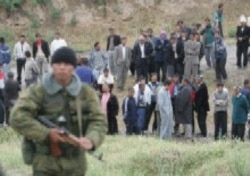 Uzbek refugees in Kyrgyzstan on May 19, 2005 (epa)


NO PLACE TO GO: More than 400 Uzbeks who fled in panic in the hours and days after troops opened fire on demonstrators in Andijon one year ago have been granted political asylum outside Central Asia. In limbo for weeks in Kyrgyzstan as they and the world tried to come to grips with the bloody events of May 12 and 13, they feared for their lives and the lives of family members as the official crackdown continued.... (more)
RELATED ARTICLES
Andijon Refugees In Romania Have Escaped Violence, But Not Heartache
Refugees In Romania Await Decision On Destination
Refugees Want To Return Only If Regime Changes


THE COMPLETE STORY: A dedicated webpage bringing together all of RFE/RL's coverage of the events in Andijon, Uzbekistan, in May 2005 and their continuing repercussions.
CHRONOLOGY
For an annotated timeline of the Andijon events and their repercussions, click here.