Iraq Says 130,000 People Displaced By Violence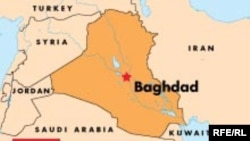 (RFE/RL) June 26, 2006 -- A spokesman for Iraq's Ministry of Displaced Persons and Migration, Sattar Nowruz, told the Iraqi parliament today there are some 130,000 displaced people in the country due to sectarian violence.
Nowruz said his ministry's statistics show 30,000 people were displaced in the last month.
The head of the parliament's committee on the displaced, Haidar al-Ibadi, said 70 percent of those displaced are Shi'ite Muslims.
(Reuters)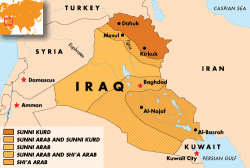 Click to enlarge the image.
SUNNI, SHI'A: Iraq is riven along sectarian lines, faults that frequently produce violent clashes and are a constant source of tension. Sectarian concerns drive much of Iraqi politics and are the main threat to the country's fragile security environment.


THE COMPLETE PICTURE: Click on the image to view RFE/RL's complete coverage of events in Iraq and that country's ongoing transition.