Russia Seeks Security Council Meeting On Iraq Murders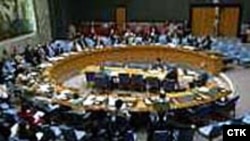 A session of the UN Security Council (file photo) (CTK) June 27, 2006 -- Russia is calling for an urgent meeting of the UN Security Council to discuss the murders of four employees of its embassy in Iraq.
Russian news agencies say the meeting could take place later today.
The United Nations has condemned the killings. A statement from UN Secretary-General Kofi Annan called them "heinous" and said no cause could justify them.
An Al-Qaeda-linked group has claimed responsibility for killing the four men, who were abducted on June 3 in Baghdad. A fifth Russian died during the kidnapping.
The kidnappers had demanded that Russia pull its forces out of Chechnya and release Muslims held in Russian jails.
(ITAR-TASS, AFP)
MORE: For coverage of this story in Russian from RFE/RL's Russian Service, click here and here.