EU Official Urges More Probes Into CIA Operations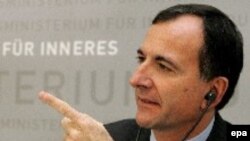 EU Justice Commissioner Franco Frattini (file photo) (epa) June 27, 2006 -- The European Union's top justice official today called for more investigations into alleged CIA antiterrorism operations in Europe and for greater parliamentary supervision of European intelligence services.
MNEU Justice and Home Affairs Commissioner Franco Frattini said the findings of a Council of Europe report published earlier this month warranted these moves. The report found that 14 European countries allowed U.S. intelligence agents to operate secret flights and detention centers on their territories, in the process, in its view, violating international human rights law.
The report's chief author, Swiss Senator Dick Marty, said on June 27 that Europe should not throw its values "out of the window" in its efforts to combat terrorism.
The United States has denied any mistreatment or torture of terrorist suspects.
(compiled from agency reports)