Opposition Blocks Ukrainian Parliament Session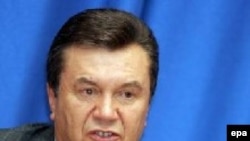 Viktor Yanukovych's party has threatened to block parliament for 30 days (file photo) (epa) June 27, 2006 -- Lawmakers from Ukraine's largest opposition party blocked the podium in the Verkhovna Rada today, preventing the session from opening.
The Party of Regions complains that the
newly formed governing coalition
of Orange Revolution parties is depriving it of key positions in parliamentary committees.
Party leader Viktor Yanukovych said his party is prepared to continue blocking parliament for 30 days to prevent a new government being formed.
The parliament is now expected to reconvene on June 29.
The Party of Regions won the most votes in March parliamentary elections, but failed to win a majority. After three months of negotiations, the Our Ukraine bloc of President Viktor Yushchenko, the party of former Prime Minister Yuliya Tymoshenko, and the Socialists agreed last week to form a coalition.
(UNIAN, Interfax, AP)
BEHIND THE IMAGES: Click on the links below to read RFE/RL's profiles of some of the key players in Ukraine's March 26 legislative elections:

Click on the image for background and archived articles about Ukraine's March 26 elections.




Click on the image to see RFE/RL's coverage of the Ukrainian elections in Ukrainian.

Click on the image to view a photo gallery of some of the key players in the Ukrainian elections.