The Group of Eight (G8) leading industrialized countries said on June 29 that they expect a "clear and substantive" answer from Iran on whether it will accept the offer when the European Union's foreign affairs chief, Javier Solana, meets with Iran's top nuclear negotiator on July 5.
The G8 also said they were disappointed by Iran's failure to make an official response so far.
But Manuchehr Mottaki, speaking at the United Nations, said Iran's answer will come in August and not before. He said Iran wanted to settle questions about the package at the July 5 meeting with Solana.
China today also called on Iran to respond quickly to the international package of incentives. It did not, though, set a deadline.
The G8 foreign ministers were meeting in Moscow to prepare the agenda for the group's summit in St. Petersburg, to be held on July 15-17.
(compiled from agency reports)

MORE: For coverage of the G8 foreign ministers' meeting in Moscow from RFE/RL's Russian Service in Russian, click here.
What The Street Thinks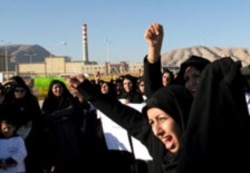 A demonstration in support of Iran's nuclear program outside the Isfahan uranium-conversion facility in Isfahan in January (epa)

IRANIANS SPEAK OUT ON THE DISPUTE: To find out more about what Iranians think about the international controversy over their country's nuclear program, RADIO FARDA asked listeners to express their views....(more)
See also:
Iran: Public Has Mixed Feelings On Nuclear Issue

THE COMPLETE PICTURE: RFE/RL's complete coverage of controversy surrounding Iran's nuclear program.
CHRONOLOGY
An annotated timeline of Iran's nuclear program.