On June 25, 1996, a truck packed with explosives blew up near the Khobar military housing complex in Dhahran, Saudi Arabia. The blast killed 19 U.S. military personnel and injured more than 350 people.
"In the [U.S.] indictment, there was no mention of any Iranian individuals -- they simply indicted 'Iran,' as almost like a state, and then continued the list of all the Saudis that were connected." -- Ali Ansari

A U.S. indictment was issued six years later, in 2001, against 13 Saudis and one Lebanese national.
No Iranians were named in the indictment. But the document included a reference to "Iran," and U.S. officials have long made it clearthatthey suspected elements within the Iranian government "inspired, supported, and directed " the attack.
Khobar Revisited
Marking the 10th anniversary of the tragedy, President Bush issued a statement in which he alleged that the attack was carried out by terrorists who were working with Iranian officials. He added that the United States remains determined to bring the perpetrators to justice.
Tehran has denied the accusations as groundless.
Ali Ansari, an expert on Iran with the Chatham House (aka Royal Institute of International Affairs) and author of a newly published book about Iranian-U.S. relations called "Confronting Iran," points out that no evidence has been presented to prove Iran's direct involvement in the Khobar attack.
"There is a conviction among many officials that Iran was involved in the Khobar bombing, and there may be some evidence that links it," Ansari says. "Unfortunately this evidence has never been provided to connect Iran to this [bombing]. In the [U.S.] indictment, there was no mention of any Iranian individuals -- they simply indicted 'Iran,' as almost like a state, and then continued the list of all the Saudis that were connected. Then 9/11 happened [and] then, of course, the indictment was dropped -- you didn't hear anything. Now, once again, you tend to get these allegations coming out and [the debate] tends to get political."
Some observers suggest that Washington has avoiding presenting evidence of Iranian involvement out of foreign-policy concerns. They include former FBI Director Louis Freeh, who has accused the Clinton administration of ditching the Khobar investigation to pursue better relations with Tehran under Iran's former, reformist government.
Political Context
Ansari claims that by renewing the allegations about Iran's role in the Khobar bombing, the Bush administration is trying to put pressure on Tehran over its hotly disputed nuclear program.
Houshang Amirahmadi, a professor at Rutgers University and the head of the nongovernmental American-Iranian Council, agrees.
"It's a message for Iran that says, 'We have problems, and there are issues that we can put on the table at any moment to cause you trouble,'" Amirahmadi says. "I think it has two aims: One is to put pressure on Iran to halt uranium enrichment; and the other is to prevent Iran from having high expectations of the Bush administration -- so that Iran does not think that if it comes to terms with the U.S. a bit, then all problems will be solved."
Amirahmadi suggests Bush's statement is also aimed at deflecting pressure from opponents in Washington of direct talks with Iran.
"This proposal [of possible direct talks with Tehran] has many enemies in Washington, and many people are unhappy about it," Amirahmadi says. "For that reason, the Bush administration tries -- whenever it wants to make an overture toward Iran -- to say, 'I'm still standing firm against Iran.' For that, [Bush] goes back to the history and issues reminders of the problems with Iran."
The United States has consistently accused Iran of being one of the main sponsors of terrorism in the Middle East. Washington also suspects Iran of trying secretly to develop nuclear weapons.
Tehran rejects those charges and accuses Washington of pursuing a "hostile policy" toward Iran.
Additional Strain
Ansari says the renewed U.S. allegation is likely to increase tension at a time when Washington is seeking Iranian cooperation.
"I'd be quite happy and quite ready to have [U.S. officials] make the allegation with concrete evidence that would prove their case," Ansari says. "But if they are simply bringing [the allegation] out at a particular time in order to satisfy a domestic political constituency without any evidence, it simply muddies the water and makes the [nuclear] negotiations more difficult."
Iran's supreme leader, Ayatollah Ali Khamenei, on June 27 played down the prospect of direct talks, saying there would be no benefit to Iran.
Amirahmadi says Khamenei's remark could hint at doubts about the U.S. desire to resolve differences with Iran. But he says he does not think the comment was a categorical rejection of the package of incentives offered to Iran by the five permanent UN Security Council members plus Germany if it would curb sensitive nuclear activities.
"There are two issues behind [Khamenei's] comments: One is that until the two countries create the political will to resolve their differences and back it with authority and decisiveness, then there is no point in talks. And the second issue is: If the U.S. aim in negotiating with Iran is merely for Iran to give up uranium enrichment in exchange for a carrot, then that will not be easy for Iran," Amirahmadi says. "I think Mr. Khamenei thinks Iran should take several steps so that talks with the U.S. would be meaningful."
Amirahmadi cites the recent creation of the Foreign Relations Steering Council as an example of one such step.
The United States broke diplomatic and trade ties with Iran following the 1979 Islamic revolution and the taking of American hostages by students proclaiming their loyalty to Ayatollah Ruhollah Khomeini.
Avoiding International Isolation
Avoiding International Isolation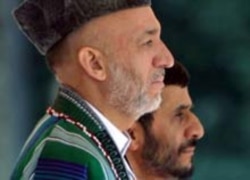 Afghan President Hamid Karzai (left) with Iranian President Mahmud Ahmadinejad in Tehran on May 27 (epa)
DIPLOMATIC OFFENSIVE:
As the United States and the European Union increase pressure on Iran regarding its nuclear program, Tehran has launched a wide-ranging and ambitious diplomatic offensive, including high-level state visits with countries including China, Indonesia, Afghanistan, Azerbaijan, and Pakistan. In May, Iranian President Mahmud Ahmadinejad participated in a high-profile
summit of the so-called Developing 8 (D8) group
of countries in Bali. Below are some links to RFE/RL's coverage of Iran's efforts to boost international support for its position.
Tehran's Shanghai Plans Seen As Bold Geopolitical Stroke
Nonaligned Movement Expresses Support For Iran
Afghan, Iranian Presidents Tout Strong Historical Ties
Iranian Foreign Minister In Pakistan For Energy Talks
Iranian Foreign Minister Visits Baghdad
ARCHIVE
To view all of RFE/RL's coverage of Iran, click here.

THE COMPLETE STORY: RFE/RL's complete coverage of controversy surrounding Iran's nuclear program.