The statement was released after Iraqi authorities on July 2 named the former Iraqi ruler's eldest daughter and his wife as being on the Iraqi government's list of 41 most-wanted suspects.
Hussein's wife, Sajida, is believed to be living in Qatar.
The Jordanian statement said Jordan has not received any new extradition request from Iraq.
In another development, the largest Sunni Arab bloc in the Iraqi parliament, the Iraqi Accordance Front, has announced it is suspending its participation in the National Assembly until a Sunni female lawmaker is freed by kidnappers. Taysir Najah al-Mashhadani and seven of her bodyguards were abducted by gunmen on July 1 in Baghdad.
(compiled from agency reports)
Saddam Hussein Biography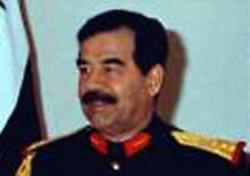 For a timeline of former Iraqi President Saddam Hussein's life from his rise within the ranks of the Ba'ath Party and the Revolution Command Council to his regime's ruthless persecution of perceived enemies at home and abroad, click here.